Confession Time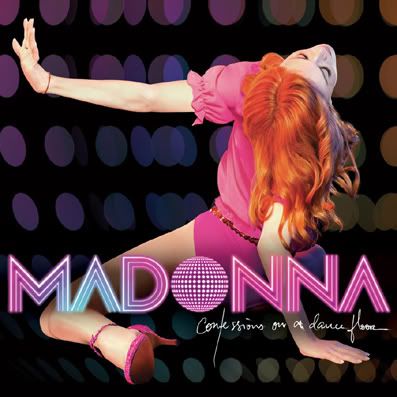 MADONNA
"Confessions On A Dance Floor"
Reviewed by Reuben
Disco is back. The Fawcett weave is back. But ultimately, these all herald something else. Something bigger. The Queen. The Queen of Pop. Madonna is back. Never really leaving the pop world behind her, her foray into vocoded squelching from the draining Mirwais has finally ended (bar one more song). Instead, "Confessions On A Dance Floor" screams "hit record." Starting out with 12", Madonna's love affair with the dance floor at the beginning of her burgeoning career has kept her grounded. And although there were touches of it in "Ray Of Light", nothing came close to her wonderfully naive and splendid "Holiday" and "Everybody." Until "Confessions" dropped.
Touted as "future-dance", Madonna and producer in tow, the electronic wiz-kid Stuart Price (or Jacques Lu Cont as he's better known) collaborate to make a non-stop, mixed CD of funky disco tunes - often paying homage to disco queens such Donna Summer and of course, ABBA. "Hung Up" is the only track that comes close to being rather camp. But the first single is infectious, and instead of desecrating ABBA's brilliant and well known "Gimme Gimme Gimme (A Man After Midnight)" - she transforms it. The bass riding high, the electro beats pulsing, one cannot deny that she still has it...and continues to flaunt it.
Seguing into "Get Together", it is quite possibly the dance track of the year. Pity it won't be released and be one of the gems Madonna has held close to her. A cyber concoction of Daft Punk and Pet Shop Boys, the synths are glorious - floating around the psychedelic coloured dance floor. Pulsating and grinding, the beats are subtle, leading us forward to an apology, "Sorry." Electronic synths, an array of multicultural influences and a strong bassline carry this stunning track. Vocally and lyrically flawless - exemplifies how a dancefloor peaks in the wee hours of the morning.
The hyped track, "I Love New York" is haplessly silly. Fun and breezy, the only thing suffering here ispoorly written lyrics. But who really cares when the Queen tells you to "get off the street", toying with our minds with contagious beats and carefully placed synth chords. Hitting at the point of no return effortlessly is "Let It Will Be" - a strong message of confidence and defiance against the tone of synthesized strings and heavily layered vocoded vocals. She will tell us about success, and about fame.
However, all this talk on success and fame still didn't stop controversy. Never one to shy from outcries from minority and majority groups - this time, it's over the name of a particular track - "Isaac." Painting a Kabbalah-istic image kicked up a storm with the Jewish Rabbis - before the track had even been heard. Despite the given nature of the song, it remains a truly epic and uplifting section of the album. After mixing straight into the ethnic-tribal "Push", the closing track "Like It Or Not" shows the side of Madonna we are all so use to seeing, and frankly, expect. Sounding more like "Frozen" it is another epic string-infused, blunt, in-your-face attitude paradox. "Love me or leave me" she beckons. Which will you decide?

Madonna has confessed. And we are all listening.

______________________________________
Originally published 16 November 05 in BEAT Magazine - Melbourne's most well-read music press.