The Men Behind The Man
Nihongo Influences
音楽影響
influences of music
It is no secret that
Rob Dougan
is heavily influenced by the Japanese culture - literature, art and music. This is clearly characterised by the use of "Kurayamino" in his mix of his famous classic club anthem, "
Clubbed To Death
".
In a personal correspondance,
Rob Dougan
outlines his influences -
"A good friend of mine, who never calls me, Takuya Seki, suggested the name 'Kurayamino' for my final version of "Clubbed To Death". He lives in Tokyo and the name means 'Darkness'. The are some musical feelings in "Clubbed To Death" that remind me a bit of Ryuichi Sakamoto who is a wonderful composer of music." RYUICHI SAKAMOTO
BiographyAward-winning composer and musician
Ryuichi Sakamoto
has made a career of crossing musical and technological boundaries.
Sakamoto
has experimented with, and excelled in, many different musical styles, making a name for himself in popular, orchestral and film music. Never one to be satisfied with the status quo,
Sakamoto
continues to push the envelope of his artistry, marrying genres, styles and technologies for the first time to create new and exciting directions in musical expression.
http://www.sonyclassical.com/artists/sakamoto/adbio.html
http://www.sitesakamoto.com/data/biography.html
芸術の影響
influence of art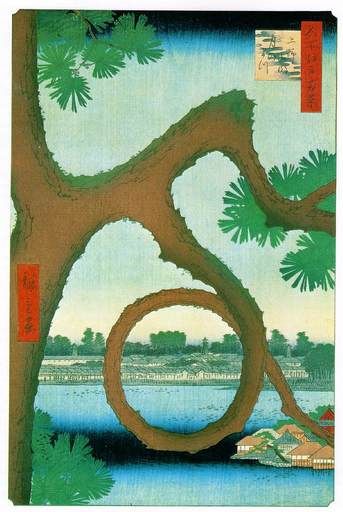 Moon Pine, Ueno 1857 (130 Kb); From "One Hundred Famous Views of Edo"; Woodblock print, 13 1/4 x 8 5/8 in; The Brooklyn Museum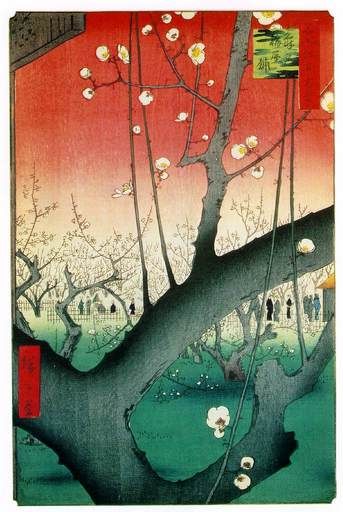 Plum Estate, Kameido 1857 (150 Kb); From "One Hundred Famous Views of Edo"; Woodblock print, 13 1/4 x 8 5/8 in; The Brooklyn Museum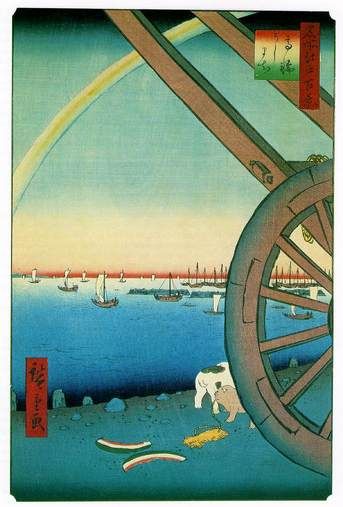 Ushimachi, Takanawa 1857 (130 Kb); From "One Hundred Famous Views of Edo"; Woodblock print, 13 1/4 x 8 5/8 in; The Brooklyn Museum

I very much like Ando Hiroshige, and have four works of his. For some reason I find this very inspiring. You can see these on the internet (Omi Province Plate 22 from 60 Odd Provinces, Koma Katado Azumabashi Plate 82? from 100 Famous Views of Edo, Kasumigaseki Plate 12 from 100 Famous Views of Edo, Yatsumi No Hashi Plate 45 from 100 Famous Views...)Hiroshige
(1797-1858), Japanese painter and printmaker, known especially for his landscape prints. The last great figure of the
Ukiyo-e
, or popular, school of printmaking, he transmuted everyday landscapes into intimate, lyrical scenes that made him even more successful than his contemporary,
Hokusai
.
Ando Hiroshige
was born in Edo (now Tokyo) and at first, like his father, was a fire warden. The prints of
Hokusai
are said to have first kindled in him the desire to become an artist, and he entered the studio of
Utagawa Toyohiro
, a renowned painter, as an apprentice. In 1812
Hiroshige
took his teacher's name (a sign of graduation), signing his work
Utagawa Hiroshige
. His career falls roughly into three periods. From 1811 to about 1830 he created prints of traditional subjects such as young women and actors. During the next 15 years he won fame as a landscape artist, reaching a peak of success and achievement in 1833 when his masterpiece, the print series Fifty-three Stations of the Tokaido (scenes on the highway connecting Edo and Kyoto), was published. He maintained this high level of craftmanship in other travel series, including Celebrated Places in Japan and Sixty-nine Stations on the Kiso Highway. The work he did during the third period, the last years of his life, is sometimes of lesser quality, as he appears to have hurriedly met the demands of popularity. He died of cholera on October 12, 1858, in Edo.
With
Hokusai
,
Hiroshige
dominated the popular art of Japan in the first half of the 19th century. His work was not as bold or innovative as that of the older master, but he captured, in a poetic, gentle way that all could understand, the ordinary person's experience of the Japanese landscape as well as the varied moods of memorable places at different times. His total output was immense, some 5400 prints in all.
http://www.ibiblio.org/wm/paint/auth/hiroshige/
文学的な影響
influences of literature
Yasunari Kawabata is a great novelist. When I was working on Nothing at all, I even put a phrase from his book, "Snow Country" in one of the lines. I think the book of his I appreciated the most was "The Sound Of The Mountain." [sic] There's a feeling I get from his novels that has inspired me many time. The feeling I got from "Snow Country" and "Sound Of The Mountain" is expressed in "Nothing At All", and parts of "Clubbed To Death."

I really like the theatricality of film makers like Kurosawa and some of that has found its way into being an influence. The film of Yasujiro Ozu, "Tokyo Story" one is my favorite films. I like the slow formal quality, the economy, the understatement....I can't put it into words so quickly....
First Japanese novelist, who won the Nobel Prize for Literature (1968). Many of
Kawabata
's book explore melancholically the place of sex in culture and people's lives. His works combined old Japan's beauty with modernist trends, realism with surrealistic visions. Over the course of his life,
Kawabata
wrote more than a hundred 'palm-of-the-hand' stories - as the author called them. They were usually two or three pages long, and expressed according to
Kawabata
the essence of his art.
In 1954 appeared
Kawabata
's perhaps best work, "
Yama No Oto
" (
The Sound Of The Mountains
), which depicted family crisis in a series of linked episodes. The protagonist,
Shingo
, represents traditional Japanese caring of human relationships and nature. He is concerned about the marital crises of his two children. Scenes from the hero's daily life are interwoven with poetic descriptions of nature, dreams, and recollections.
Among
Kawabata
's famous works after World War II is "
The Snow Country
" (finished 1948), the story of a middle-aged aesthete,
Shimamura
, and an aging geisha,
Komako
. As a background of their sporadic affair is a distinct isolated location, a hotspring resort west of the central mountain range, where winters are dark, long and silent. "After all, these fingers keep a vivid memory of the woman I am going to see,"
Shimamura
thinks when he travels to the snow country by train. It takes him to another place, away from his ballet book he is writing. But this far-off destination gives him only a temporary home, a reflection of something else when the night transforms the coach's window into a mirror.
Komako
is violently in love with him, and she is not a reflection, created according to
Shimamura
's aesthetic vision.
Kawabata
later told that he modelled her after a real character.
http://www.kirjasto.sci.fi/kawabata.htm
Snow Country
To this haunting novel of wasted love,
Kawabata
brings the brushstroke suggestiveness and astonishing grasp of motive that earned him the Nobel Prize for Literature. As he chronicles the affair between a wealthy dilettante and the mountain geisha who gives herself to him without illusions or regrets, one of Japan's greatest writers creates a work that is dense in implication and exalting in its sadness.
"I also like the boldness and extremity of a personality like Mishma. His life is fascinating . He went from being a soft quite "poet", to being a soldier of sorts. His book "Sun And Steel" impressed me very much, and perhaps influence some of the attitudes with the extreme personality on "Furious Angels."
Yukio Mishima
(1925-1970) - Pseudonym for
Hiraoka Kimitake
Prolific writer, who is considered by many critics as the most important Japanese novelist of the 20th century.
Mishima
's works include 40 novels, poetry, essays, and modern Kabuki and Noh dramas. He was three times nominated for the Nobel Prize for literature. Among his masterpieces is "
The Temple Of The Golden Pavilion
" (1956). The tetralogy "
The Sea Of Fertility
" (1965-70) is regarded by many as
Mishima
's most lasting achievement. As a writer
Mishima
drew inspiration from pre-modern literature, both Japanese and Western.
http://www.kirjasto.sci.fi/mishima.htm
"One of the twentieth century's outstanding statements of literary and personal purpose."
In this fascinating document, one of Japan's best known - and controversial - writers created what might be termed a new literary form. It is new because it combines elements of many existing types of writing, yet in the end fits into none of them.
At one level, it may be read as an account of how a puny, bookish boy discovered the importance of his own physical being; the "
Sun And Steel
" of the title are themselves symbols respectively of the cult of the open air and the weights used in bodybuilding. At another level, it is a discussion by a major novelist of the relation between action and art, and his own highly polished art in particular. More personally, it is an account of one individual's search for identity and self-integration. Or again, the work could be seen as a demonstration of how an intensely individual preoccupation can be developed into a profound philosophy of life.
All these elements are woven together by
Mishima
's complex yet polished and supple style. The confession and the self-analysis , the philosophy and the poetry combine in the end to create something that is in itself perfect and self-sufficient. It is a piece of literature that is as carefully fashioned as
Mishima
's novels, and at the same time provides an indispensable key to the understanding of them as art.
The road
Mishima
took to salvation is a highly personal one. Yet here, ultimately, one detects the unmistakable tones of a self transcending the particular and attaining to a poetic vision of the universal. The book is therefore a moving document, and is highly significant as a pointer to the future development of one of the most interesting novelists of modern times.
Source