Cole Porter and Nostalgia
One of my main complaint about the state of modern music is the lack of...well, music. As extrapolated on my other
blog
, the scandalous techniques, sly marketing, millions of money poured into feeding the frenzy MTV generation has spawn a depravity of music.
Hip-hop being the main offender, it's story-less lyrical play only depict their superficiality with huge amounts of materialistic wealth, or "bling bling" on display. Pop music has always been a main player - although its roots are firmly held in commercialism of the industry, which translates to it's disposability as its demise as well.
So what is the answer? To find out, we have to look to the past. Although this is not an exercise in nostalgia as there is no reference point to the "golden past", I will focus on one song in particular that has captured my heart, my ears and its resounding nostalgia.
LOVE FOR SALE
Devastating, smokey, convincing, deprived, depressed...the melancholic adjectives continue to roll off the tip of my tongue. This precisely captures
Vivian
Green
's take on "
Love For Sale
." Originally a classic piece from the troubled American,
Cole Porter
, Ms.
Green
serves up an equally depressive, yet brilliant cover for the
De-Lovely
movie and soundtrack.
Other classic jazz artists such as
Ella Fitzgerald
and
Billie Holiday
had covered it, but Ms.
Green
touches it with a dash of bittersweetness. Instead of producing it to the nth degree, the song relies heavily on the masculine piano performance, a touch of brush drums and allowing all the space Ms.
Green
needs to put on a convincing vocal and emotive performance.
What makes this song stand out from the rest is that it conveys the story of a prostitute - a contentious topic that even today, MTV does not show or report. Despite the overt female sexuality on display in music video clips and even lyrically, nothing comes close than an outsider speaking knowingly on the discourse of "love". Ms.
Green
's breathy vocals has the air of defiance, melancholy refuting any emancipatory celebration of what continues to be a socially demeaned position and status within the society.
So we resort to nostalgia for music. No doubt the genre-defying beats and rhythm still rule, or sassy, cut-throat lyrical play. But can today's modern take on music survive? Can it breath life?
Vivian Green
and
Cole Porter
are testament to it.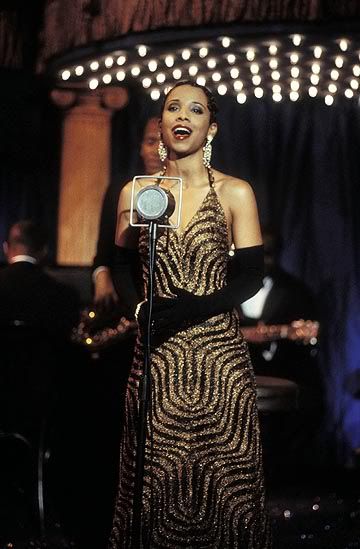 Vivian Green singing "Love For Sale" in Winkler's "De-Lovely." Photo courtesy from MGM.