X-STaTIC PRo=CeSS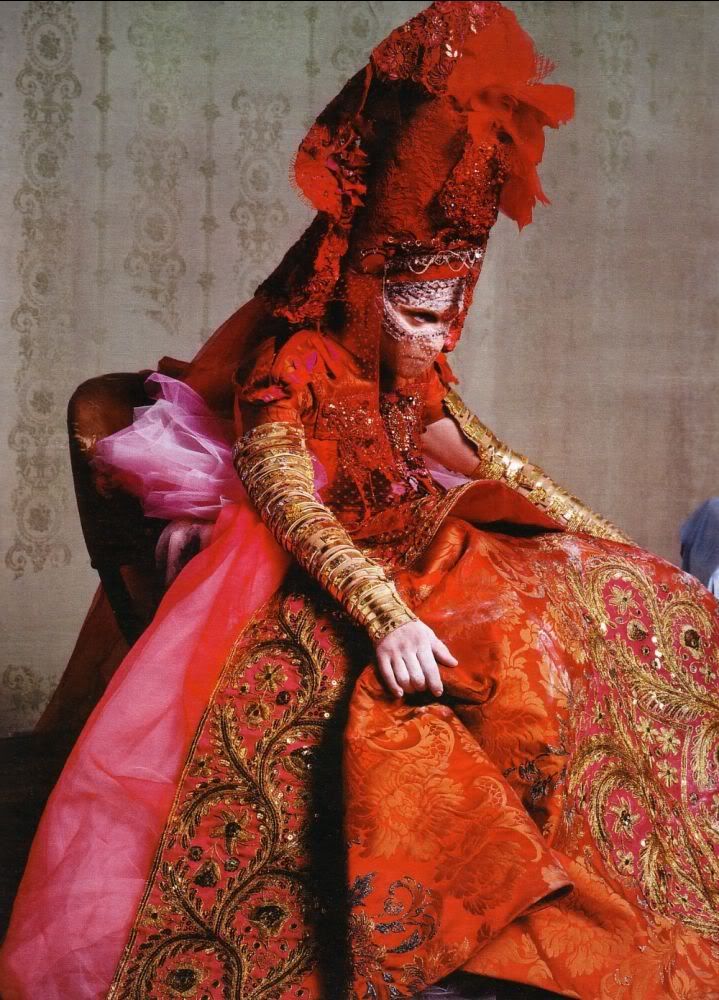 Deitch Projects in New York will present

X-STaTIC PRo=CeSS

, a collaboration between Madonna and photographer Steven Klein. The exhibit, designed by LOT/EK, includes three video works and two photographic animations, each with a sound component.
Don't ask photographer
Steven Klein
to explain his aggressively baffling new art collaboration with
Madonna
at SoHo's Deitch Projects Gallery. "I never have any special meaning to my work," the artist announces while walking through the installation with his dog.
Klein
prefers enigmatic assessments. "I see this as a platform to bring
Madonna
's ideas to life — or to death," he says with a Cheshire-cat smile. "It's really just about provoking people to think — or not to think." This collaborative project between renowned New York photographer and
Madonna
was based around the loose narrative of "a performerin a landscape where she creates and brings her ideas to life or death".
At the very least, it's about making people reconsider their use of capital letters.
Klein
and
Madonna
have titled the piece "
X-STaTIC PRo=CeSS
."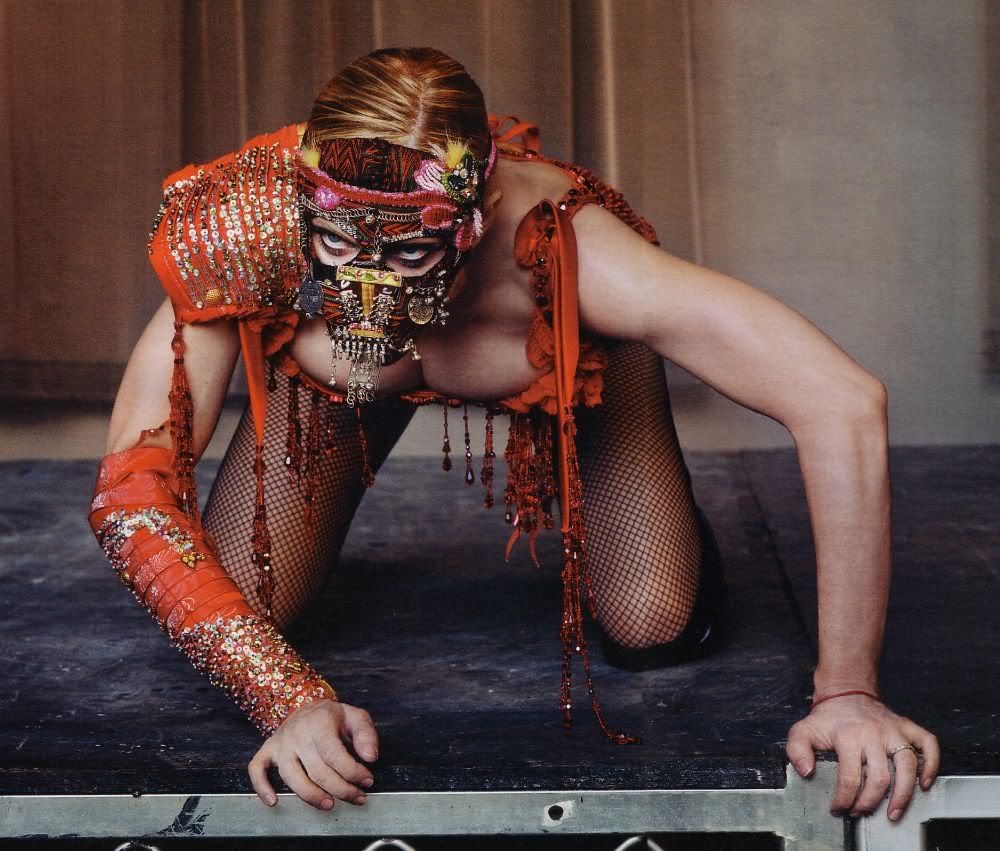 "
X-STaTIC PRo=CeSS
" is the product of a one-day photo shoot in Los Angeles for this month's issue of
W magazine
, which precedes the April 22 release of her new album "
American Life
."
Madonna
was not interested in doing conventional fashion pictures, so the pair experimented with video and animation to create something more bold and avant-garde.
After producing the 44-page magazine spread,
Klein
saw morepossibilities for the material. Fusing photography, music, performance,and animation, he expanded the footage into a multimedia exhibit. The gallery version lands far closer to performance art than to anything from the world of runway models.
The installations were designed by
Ada Tolla
and
Giuseppe Lignano
of NewYork's
LOT/EK
Architecture
. The five installations are displayed on two levels of the dark gallery, accompanied by the sounds of fiery blasts, crashes, warbled audio, and
Madonna
reading Scripture.
Lignano
, inspired by the mysterious tone of the original images, says the lighting and frames were manipulated so that each installation would emerge from the dark and the visitor could experience them one at a time.
"We were very guided by the fact that when we first saw the images, we very much saw some sort of a modern-day
Caravaggio
," says the Italian architect. "So we started thinking about the experience of going aroundin a Baroque church and when you discover chapels one at a time."
"The images are projected deep within each frame, keeping a large space between the viewer and the art," says
Lignano
.
Madonna
, who was scorned for her erotic treatment of religion in "
Like APrayer
" and "
Justify My Love
" more than a decade ago, walks the fine line again.
Viewers attending the show can wend their way through five distinct sound and video installations. Since the area around each illuminated piece is pitch-black, the gallery winds up seeming like the world's most pretentious peep show — or like some house of horrors, as designed by
Yoko Ono
. Each piece has its own sound effects — gurgles, murmurs, a gunshot — heard at the same time, the better to "provoke" you.
The show's centerpiece,
Kidney
, for example, shows
Madonna
pretzeled up into a yoga posture on one side of a door and a poster of a kidney - actually throbbing a little - on the other. The prevailing esthetic is gothic surrealism, the kind of thing that can be found in certain rock videos.
Madonna
stars in all the scenes. The deafening audio includes sounds of a slamming door, voice-processed singing and some fire and brimstone from the
Scriptures
.
In
Coyote
, a triptych, she poses frozen in a back-bend while flanked by two snarling canines on chains. In
Queen
, she wears an uncomfortable ornate red spangled gown. In
Bed
, she writhes in a housedress on a bare mattress and metal bed.
In one installation,
Beast
, her recording of excerpts from the
Book of Revelation
accompanies the images of a burning wedding dress and herself as a masked beast perched on a wide platform. Is it some kind of a statement against the metaphorical "wedding" in the Bible? According to
Klein
, the meaning is in the eye of the beholder.
"I don't think
Madonna
has a specific message, and I don't have aspecific message," he says. "It's up to the viewer to respond. I'm always there to provoke, not to give a definitive message." Whatever its implications may be, the exhibit represents a breakthrough for the art and the artists.
Photography is pushed beyond its conventional classification, fusing still images with sound and movement."It's really reversing what's become a trend in photography, which is touse the means of film to condense the still image," says
Neville Wakefield
, the curator. "Whereas with this [it is] taking the still image and expanding into the realm of film."It occupies an interesting territory because it's confusing. It's not entirely clear whether it relates to film or photography or video."
As the author of this territory,
Klein
establishes himself not as a mere fashion photographer but rather as the all-encompassing visual image-maker he wants to be. As for
Madonna
, "she delivers a surprise as usual," says
Jeffery Deitch
, the gallery owner."While it's an aspect of
Madonna
you haven't seen before, it's something you always expect her to be: on the edge and one of the first to embody new attitudes," he says.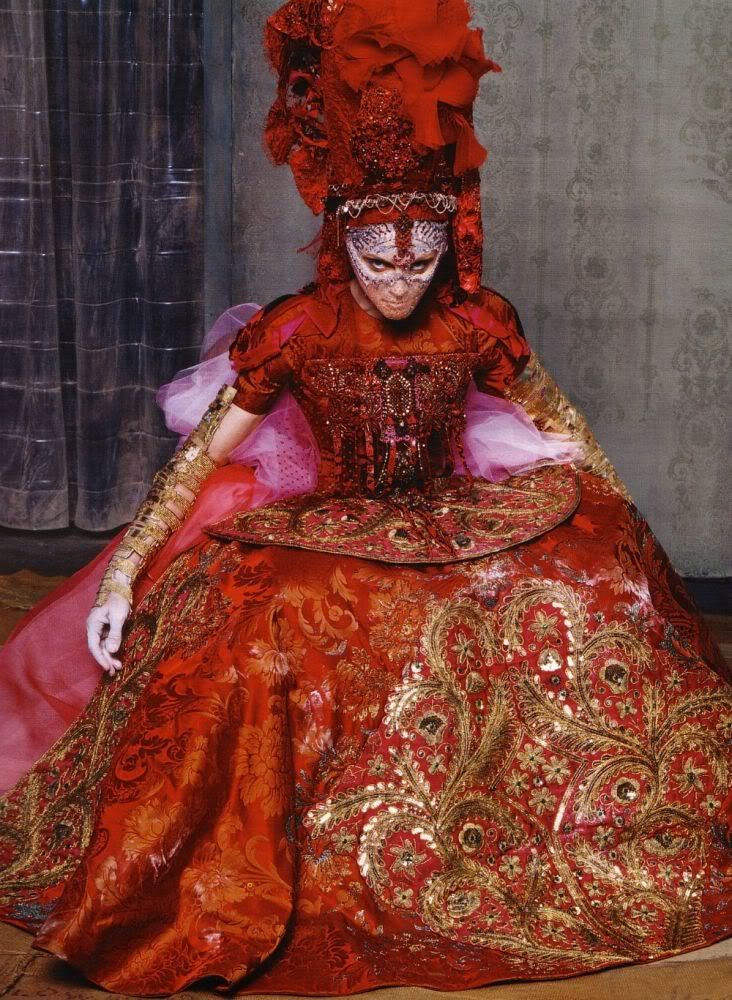 //visit
Steven Klein's Studio


//article sourced;
Style.com
;
NY Daily News
and
artnet.com Magazine Reviews