Vogue Special - Part 1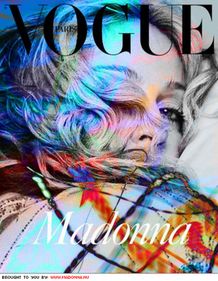 _
Vogue Paris
- Original Cover 2004
Article by Liz Rosenberg - Vogue Paris 2004
Liz Rosenberg - "Madonna in three words: courageous, visionary and funny."
As
Madonna
's agent and friend, I take care of everything that concerns her. Very often I act as a buffer between the Material Girl and the press even if it means having to get squashed against a glass wall while she walks up the steps at the Cannes festival followed by a mob of paparazzi. That was 15 years ago for the screening of "
In Bed With Madonna
".
Madonna
never reads any critics, which I think is an excellent idea. I, however, can't keep from doing so. First it's my job and it's a way to know if after all these years we're in tune with the press. Some people remain skeptical. But what artists, besides
Elvis
and the
Beatles
have had as many hits as what constitutes the soundtrack of our lives.
I remember it as if it were yesterday. In the middle of the summer a ball of fire stumbled into my office full with fabulous accessories. I haven't forgotten anything-the hair
'they look best when I haven't washed them for 8 days.'
The black rubberband bracelets and the torn pantyhose -
'what's the problem, everyone wears them downtown.'
The crucifix (pl.) she was wearing or carried in a pillow case,
'Jesus is sexy'
, the attitude
'nobody can tell me what to wear'
, a still unknown
Madonnna
shouted during her 1st photo shoot with the famous
Francesco Scavullo
.
'I love her style, let her wear whatever she wants',
he ordered the stylists who wanted to cover her in diamonds.
I see myself later, making her sit in my office to show her the Playboy issue with the nude photos she did for art students when she first arrived in NYC. We were all worried on the effect these photos would have on her emerging career.
'Well, first of all, I'm not sorry about anything'
she said while reading the magazine
'and I'd laugh about it if I just didn't find myself so unattractive'
. Recently asked about nudity in her career,
Madonna
simply laughed
'most of the time it was pure exhibitionism. Who doesn't show themselves naked these days?'

A few years ago I accompanied
Madonna
while she visited a hospital. She pushed a door open and in the room a very sick boy looked at her from head to foot from his bed and said
'You know, I don't like you'
.
Madonna
laughed and answered,
'Well, sometimes I don't like myself either. But what matters is that I like you.'
I left them alone for a while. Later as I met the little boy's mother she said
'it's the first time my boy is smiling in 3 weeks.'
Madonna
told me never to talk about this incident or else she'd kill me.
What makes
Madonna
happpiest these days?
'Oh probably my daughter's voice when she reads me a poem in French.'
Is there something she still dreams about?
'Many things. First of all, no more wars. And what if everyone went to see Michael Moore's movie? And if my kids put their dirty plates in the sink?'

There's no doubt that her happiness shines on the stage of the
Re-Invention Tour
.
'Since everyone was looking back at my career, I decided to revisit myself with a new twist both musically and visually. I thought about all this with Caresse Henry, my manager and best friend. Then Jamie King showed us a model of the stage the way he imagined it. I wanted to introduce elements of the Kaballah, war in general, and George Bush in particular. I wanted this show to be a visual assault. I wanted to perform in Israel in front of Jews and Palestinians. Unfortunately, Caresse didn't allow me due to security reasons. One of my goals was that each person in the audience go home convinced that they can help change the world.'
Madonna
said after drinking her 3rd cup of coffee of the morning.
What's the most important lesson in life? I asked
Madonna
before one of her shows.
'My Kabballah instructor taught me this: each time you doubt yourself, act like God. How would he act? With Love and altruism. I try to do both. That's what I'd like to teach the world.'
Amen.
Vogue Paris Editor - "Nobody has to say to me what I must wear ", said Madonna.


Without wanting to offend the "pop queen", in cover of this issue and whose concerts in Paris announce themself as the event of the re-entry, this is what we will do this month: not to leave you the choice and to put yourselves in the presence of the most outstanding looks of the autumn-winter.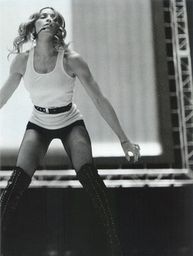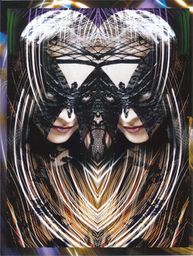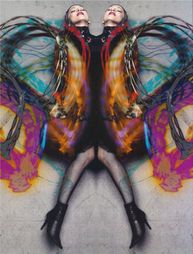 _visit
Vogue Paris