Purple Dragon, Fireball and Madonna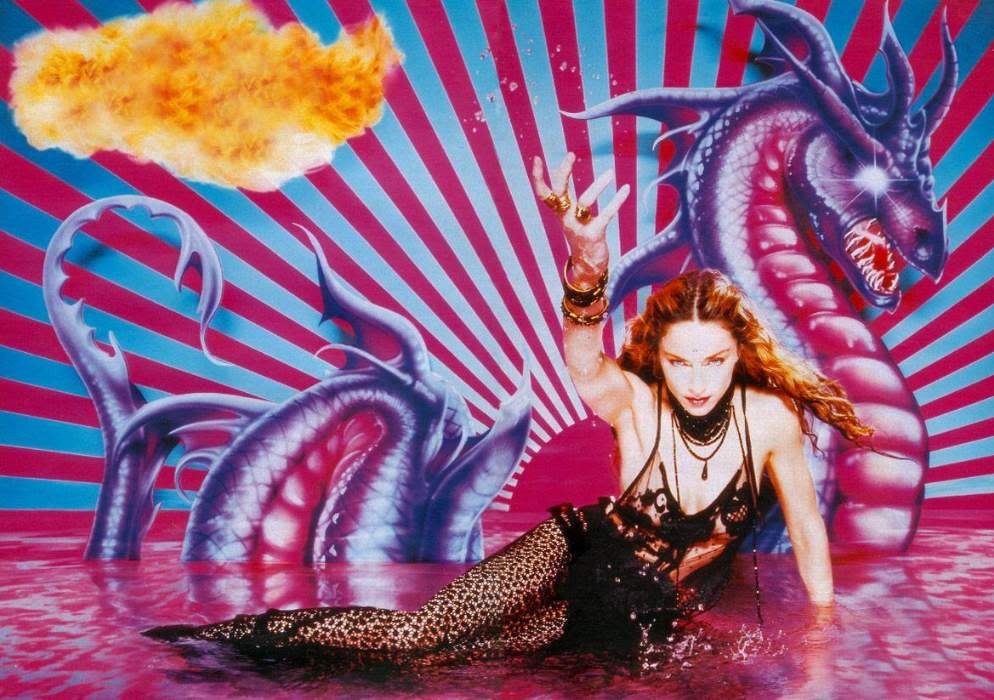 [article sourced, "Purple Dragon, Fireball and Madonna" - New York,
Rolling Stone
, 1998]
"...I like to make people larger than life." -David La Chapelle
"
David LaChapelle
is a photographer who tends to create his own visionary world, rather than reproduce what's visible in the world. ...Performance obliterates banality, just like
Drew Barrymore
's breasts can become grapefruit halves with a cherry; we hear the distant echoes of
Lewis Carroll
; eat me, drink me, big becomes small; the Tour Eiffel becomes a phallus (and vice versa), (meaning and lack of meaning mingle and compare.) This is the flow of the metropolis, of the great city life, fixed within its peremptory unreality substituting the known realities of camera shots." -
Renato Nicolini
Which only goes to prove that when it comes to discussing commercial fantasy photography, one shouldn't try to say too much.
" There are two faces in her: PROVOCATIVE AND SULFUROUS on stage and HOLY MOTHER with Lourdes Maria"- David La Chapelle
The fabulous photos that
David La Chapelle
did with
Madonna
were first published in the special double issue of the American music bible,
Rolling Stone
[July 9-23, 1998]. Then they started to go all around the world. They are the most sophisticated and kitch photos
Madonna
ever did, and also the most remarquable ones.
David La Chapelle
tells us his meeting with
Madonna
.
"You have
Madonna
during twenty-four hours. She accepts a photoshoot, but refuses any interview. Then do what you want, tell us a story with images." It was the challenge suggested to
David La Chapelle
, 37 years old, the new wonder of the American photography, the star of the American magazines. His book "
LaChapelle Land
", published 3 years ago in the United States by
Nicolas Colloway
, and in France by
Michel Birnbaum
, revolutionized the way to approach the stars.
"The photoshoot was a nightmare. Conscious that she's naturally photogenic,
Madonna
wanted all to control, but she has a rare quality : professionalism. She knows how to give everything to be good. In fact, all our work was based on her major duality. She is the energy of
Sex
, her book which made scandal seven years ago, and the perfect mother of
Lourdes
, her daughter. She is white, she is black, she is holy, she is demon. For a long time, she has been deeply interested by the Jewish Kabbale and the Hindouism. I used these two symbolisms. "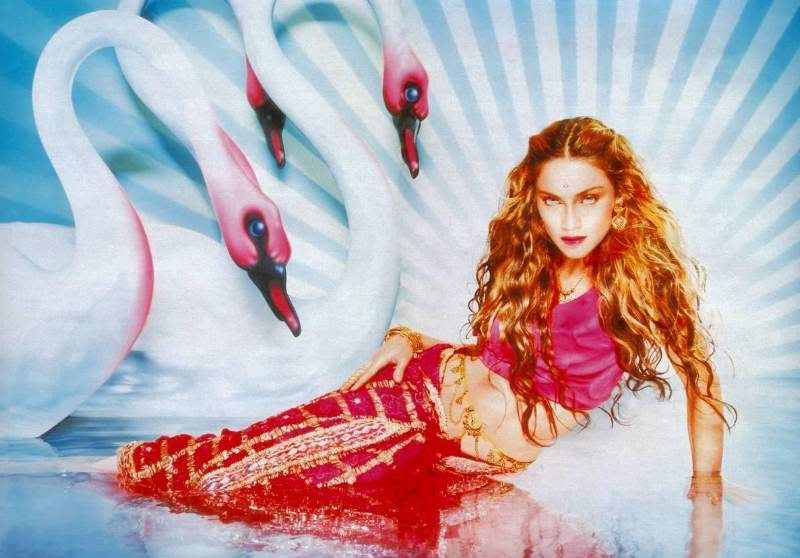 [And the protective, paradisiac and serene swan]
The Enigmatic David La Chapelle

David La Chapelle
was born in Connecticut in 1968. He originally studied fine arts at North Carolina School of the Arts before moving to New York in the mid 1980s. There he met
Andy Warhol
and encountered Pop Art first-hand. He decided to become a photographer, eventually landings his first professional job at
Warhol
's
Interview
magazine.
Throughout the 1980s
La Chapelle
became well-known as a photographer in the New York art world. In the early 1990s he began to take photographs of celebrities and fashion for magazines such as
Details
and London's
The Face
. He developed a signature style, characterized by super-saturated colors and the shocking poses and contexts in which he got celebrities and models to appear. He has been photographing famous subjects and fashion for magazines ever since. His images are now seen regularly in such publications as
Rolling Stone
, The New York
Times
Magazine, The London
Sunday Times
,
i-D
,
Flaunt
,
Arena
,
Interview
, and
Vanity Fair
, among others. He is currently under contract with
Vanity Fair
.
Selections of his work have been brought together in two books,
LaChapelle Land
(1996) and
Hotel LaChapelle
(1999), and exhibited in galleries and museums internationally.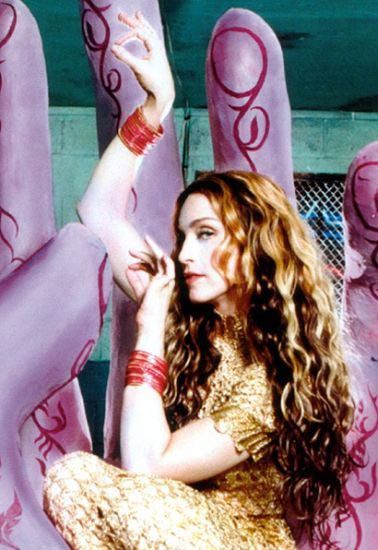 [quote, Madonna - "it is the goddess, it is Shiva and all the other Indian divinities. It is a wink also to the hippie movement of the Seventies."]
La Chapelle
has done advertising campaigns for a variety of clients including
Pepsi
,
Camel
,
Levi's
,
Diesel Jeans
, and recently the
Got Milk?
campaign. He has completed commercial projects and print advertisements for
Armani Jeans
and
MTV
, as well as commercials for
Sprite
,
Comedy Central
, and
Citibank
. He shot the entire print campaign for the MTV 2000 Video Awards, and has photographed numerous album covers and packages for such artists as
Whitney Houston
,
No Doubt
,
Perry Farrell
,
Lil' Kim
,
Elton John
, and
Madonna
.
In addition to his still photography
La Chapelle
directs music videos for select artists. His haunting video for
Moby
's "
Natural Blues
" featuring
Moby
as himself as an old man and
Christina Ricci
as an angel, had a huge presence in the music video industry in 2000. At the MTV Europe Music Awards, "
Natural Blues
" was named Best Video of the year, the result of a popular vote of over 7 million viewers. It was also nominated in the U.S., in the MTV Video Awards "Best Male Artist" category, and for best "Visionary Video" at the VH-1/Vogue Fashion Awards.
La Chapelle
's follow-up to "
Natural Blues
", the video for
Elton John
's "
This Train Don't Stop There Anymore
" with
'NSYNC
's
Justin Timberlake
as
Elton
in his Seventies heyday, premiered on MTV in mid-January.
David La Chapelle
divides his time between New York and Los Angeles.
[excerpt taken from
David La Chapelle's biography
]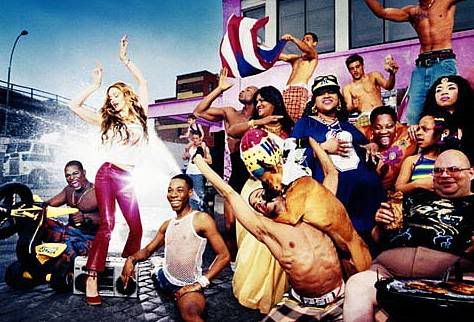 [quote, "Queen of the streets. Madonna reflects this aspirational, multicultural, multi- identity, celebratory spirit." 1998]
Madonna in the streets of New York. This photograph is my personal homage. Madonna is the icon of my youth, these fifteen last years, it formed part of my environment. Musically, aesthetically, sexually : she is the strongest influence of the Eighties." - David La Chapelle
Madonna
as a prostitute. There still, two faces of
Janus
, the virgin and the bitch. I visited Falkland Road, the district of the prostitutes in Bombay. I was fascinated. From there comes the inspiration from this image. "
Madonna
is fascinated by the Kabbala and the Hindouism. For that photo, I recreated the scenery of Falkland Road, the quarter of the prostitutes in Bombay."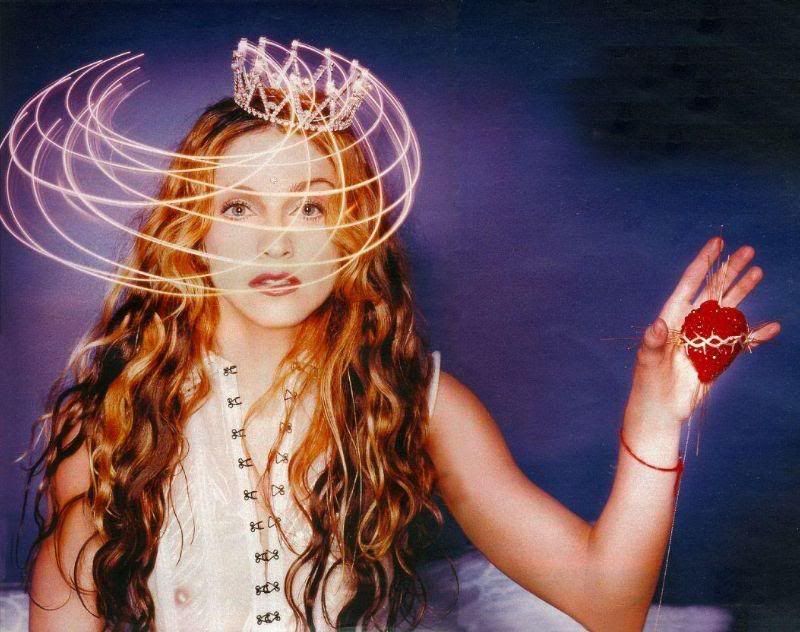 [quote, "Madonna and the halo, the holy one, the virgin, the Madone and the Sacré-Coeur. There is a major religiosity in her."]
[interview excerpt by Jean-Jacques Naudet - Paris-Match].