Glamour, Gold and the Max Factor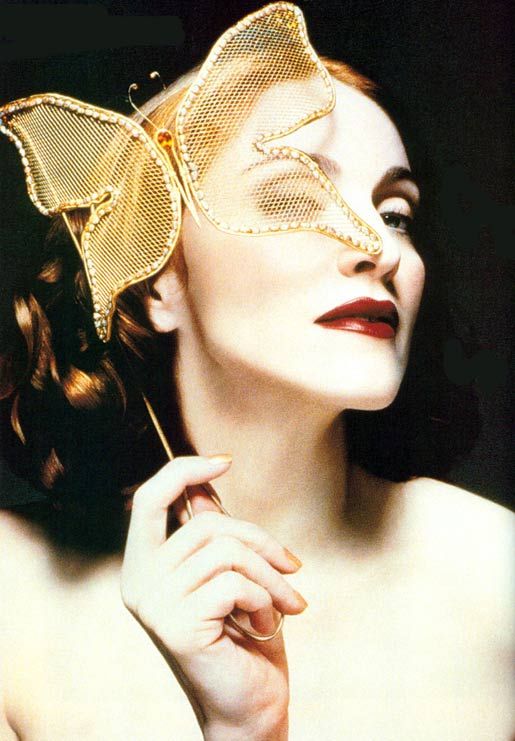 The union
In spring 1999,
Madonna
and
Max Factor
joined forces to create a stunning ad campaign that propelled a glamourous image that only a recognisable face like
Madonna
can endure and project.
The dramatic images reveals Madonna through a gold net butterfly mask and peering out from beneath a jet-bead-spewing black tiara hark back to the company's Hollywood origins.
"We wanted to take the brand forward while going back to what we are all about - supreme glamour,"
gushed
Ann Francke
,
Max Factor
's marketing director.
"There was only one woman able to carry that message into the 21st century."
And that person was
Madonna
.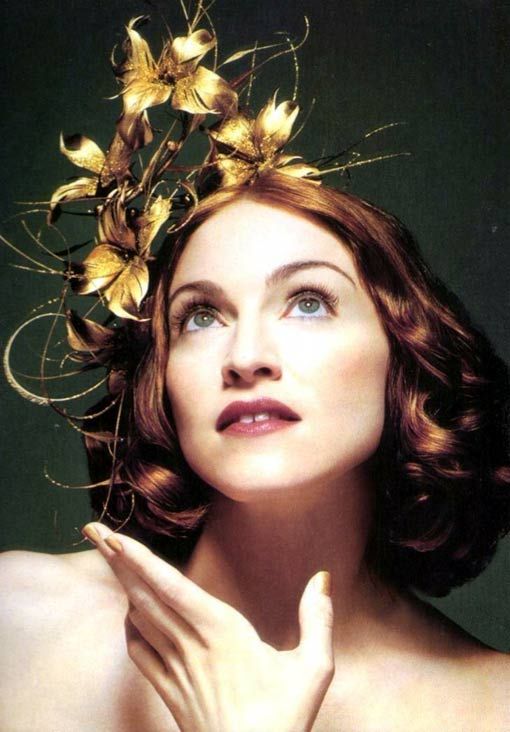 The star-quality
Celebrity endorsement may be an old trick, but it is still worthwhile. In a competitive market, a famous face can give a brand an added appeal and help it stand out. For some companies it is enough to have a major celebrity appear in a TV ad. Other companies prefer to employ a single celebrity as a brand ambassador. Ways that a number of companies are using celebrity endorsements are discussed."Celebrity endorsements can give a brand a touch of glamour" - Emma Reynolds
Procter & Gamble
's
Max Factor
had only one woman in mind for acampaign to modernise the brand, which has traditionally been associated with Hollywood icons. As
Annabelle Manwaring
, European creative director for
P&G
at
Leo Burnett
, explains:
"Madonna is a modern icon of glamour and is well-known for using make-up to reinvent herself."
According to
Manwaring
,
Madonna
insisted on trying
Max Factor
products to make sure she liked them before agreeing to be associated with the brand. Quite the opposite of onetime face of
Yardley
,
Helena Bonham Carter
, who later admitted that she didn't actually wear make-up.
Encouraging a celebrity to get more involved with the brand they are representing helps maintain integrity.
Madonna
was allowed to exercise some artistic control over the creative of the
Max Factor
ads.
_extracted from Emma Reynolds "Personality's Power" Marketing. Haymarket Publishing, Ltd. London, Nov 9, 2000
The press
Madonna new face for Max FactorP&G ads market makeup overseas
By
Patrick Larkin
, Post staff reporter
Cultural chameleon
Madonna
has signed on to promote a new line of
Max Factor
cosmetics in Asia and Europe for the
Procter & Gamble Co
.
The star of video, movies and compact disc appears in commercials for
Max Factor Gold
in makeup that harkens back to the brand's roots in Hollywood, according to press reports.
The line of cosmetics was originally created by
Max Factor
, one of the first Hollywood makeup artists.
P&G
acquired
Max Factor
for $1 billion from
Revlon Inc
. in 1991, and in the last few years has based advertising linking the brand to its beginnings in Hollywood. The campaigns have focused on makeup artists for the movies.
The
Madonna
commercial, reportedly shot at her insistence by director
Alek Keshishian
, shows the star having makeup applied by
Sarah Monzani
, who did her styling for the movie "
Evita
."
Keshishian
also directed the video "
In Bed with Madonna
."
A
P&G
spokeswoman said that under its contract with
Madonna
, the company can't comment on the commercials or
Madonna
's role except in countries in which the new line is being introduced.
No one is also talking about how much
Madonna
is being paid, although the
Guardian
newspaper in England speculated it was as much as $6.46 million.
Max Factor Gold
is a full line of cosmetics aimed at older women in Europe and Asia, where the brand is a big seller.
Madonna
is 40.
While
P&G
is studying introducing the line in North America, there are no current plans to do so, the spokeswoman said. In North America,
Max Factor
trails the mass cometics category leader,
Cover Girl
(also from
P&G
), and other brands.
But in Europe, sales of the brand have been increasing - it has tripled in the United Kingdom in the last few years, the spokeswoman said. Sales are also strong in Asia.
While the brand is positioned as an upscale mass line in the United States, similar to
P&G
's
Oil of Olay
, in Japan it is sold exclusively in department stores along with other premium lines.
_article sourced from
Cincinnati Post
. Publication date: 04-29-99
The man
Rauol Bova
- Actor
"Madonna is a tough lady, she knows what she wants and she knows how to get it! " - Rauol Bova
What can I say, there are men and then there are Italian men.
Raoul Bova
is definitely the "It" Italian man of most women's dreams and the target of Italian paparazzi. He can't walk down the street without being mobbed; he's the
Brad Pitt
of Italian cinema. But here in Los Angeles he goes virtually unknown, at least until "
Under the Tuscan Sun
" comes out and he starts being mobbed by throngs of new fans. It would be fitting when you consider the way this year is turning out for
Raoul
. His film "
La Finestra di Fronte
" (
Facing Window
), won him the President's Award for Best Actor, earned the most Donatello Awards this year, Italian equivalent to the Oscars, and has gone on to become Italy's top grossing film of 2003. It's been a good year, a perfect time to break into America.
Raoul
made the press rounds a week ago and this is what he had to say about moving to America, love scenes with
Diana Lane
, actors and directors he admires, Italian stereotypes, and the romantic lines that roll off Italian men's tongues.
Born on August 14, 1971 in Rome,
Raoul Bova
is married to
Chiara Giordana
and his first son,
Alessandro Leon
was born in 2000.
Bova
has a second son,
Francesco
, born in 2001.
Movie/Mini-Series/Special RolesAlien vs Predator
(2004) - Sebastian Wells
Under the Tuscan Sun
(2003) - Marcello
Avenging Angelo
(2002) - Marcello/Johnny Carboni
For a full filmography, please visit Bova's profile on
IMDb
_abstracted from an interview with
Rauol Bova
. English translation by a volunteer


_Madonna and
Max Factor