Domestic Diva or Ditz?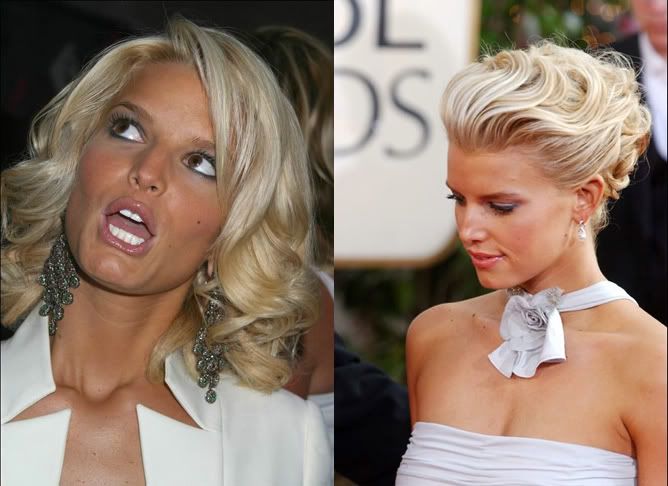 Jessica the Genius?
Does America's favorite "
Newlywed
" play up her role as a ditzy blonde for the cameras? In the
Vanity Fair
article, editor
Krista Smith
writes that
Jessica
may actually have an IQ up there with
Albert Einstein
.
In fact,
Jessica
's mom says her daughter's IQ is in the 160s. "The genius IQ is from
Tina Simpson
,"
Smith
revealed. "I do think the ditziness is played up a bit on MTV. I think it's edited in a very clever way."
But
Jessica
's TV ratings are what MTV keeps track of. And the network is extremely pleased with the success of her show, which is now in its second season.
And although
Simpson
is famous for her revealing outfits and sexy videos, when she married husband
Nick Lachey
,
Jessica
was a virgin. "She did say that her decision to keep her virginity was more of a traditional thing,"
Smith
told us. "Her belief in
God
did have something to do with it, but it wasn't entirely motivated by that."
But since she's tried it,
Simpson
reveals that she likes it. So is a baby next? "No babies,"
Simpson
insisted. "I am definitely not pregnant."
Until this moment,
Simpson
was not just another reliable celebrity airhead but the one who on "
Newlyweds
," famously couldn't distinguish whether "Chicken of the Sea" was actually chicken or fish.
It's so depressing. It's also so unexpected.
"Is this chicken or is this fish? I know it's tuna. But it says chicken. By the sea." - Jessica Simpson
At least she's still blonde. But that's it. Instead of a fun, lighthearted conversation about suntan lotion and nachos, we're going to have to discuss
Dostoyevsky
. I suppose it was inevitable. What kind of person really thinks buffalo wings are actually made of buffalo?
Either someone who is cleverly playing dumb just to keep the masses entertained or a super-genius who is so preoccupied with communicating with alien life forms that she has no time to consider such mundane earthly things.
Then again, it's stupid to doubt someone who has taken a withering pop career and turned it into an all-devouring entertainment industry monster.
Simpson
got a promising start on the back of
Britney
and
Christina
with her wholesome 1999 major-label debut, "
Sweet Kisses
," which sold more than 1.8 million copies. Its follow-up, "
Irresistible
," however, has sold just more than 600,000 since its release in 2001. And her most recent album, "
In This Skin
," which originally came out last year, barely staggered past gold status despite the success of the television show. It took the addition of a DVD, covers of
Berlin
's "
Take My Breath Away
" and
Robbie Williams
' "
Angels
," plus another major promotional push for the album to jump past 2 million.
It doesn't matter. Her personality is selling
"I think that freshness and that innocence is something that is missing from a lot of female singers. I'm certainly not denying that I'm young, but I'm not fluff." - Jessica Simpson
She may come off as a little naïve, but her determination to stick around seems to arouse a whiff of
Madonna
's savvy.
"I've definitely been smart this whole time, but I don't think it takes away from my ditzy side,"
Simpson
says. "I'm a klutz. I'm clumsy. I don't think before I talk. I just ask any question that comes to my mind. I don't figure out in my head before I say something. I knew "Chicken of the Sea" was tuna fish, but for a split second, I had that thought of, wait, maybe the albacore kind is some kind of chicken flavor."
Right. Maybe we should check those test results again.
"A lot of my success has to do with my personality," she says. "Which is nice, because I'm kind of just successful for being me."
Simpson
admits she laughs out loud when she sees herself on TV. "I definitely entertain myself."
[quote, interview extract from
Aidin Vaziri
, and photography obtained from
MTV Music Awards 2004
and
Golden Globes Awards 2004
- from
SweetKisses.net
]