Chicken Of The Sea Conference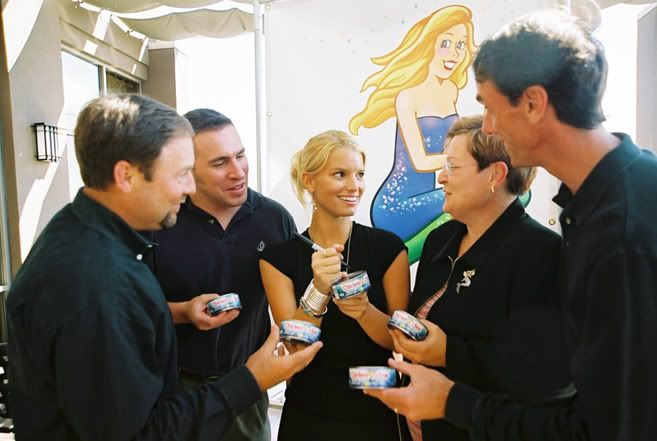 Jessica autographs cans of "Chicken of the Sea" tuna cans for staff at the annual "Chicken of the Sea" sales conference in October, 2003
Of course,
Jessica
Simpson
's most famous head-scratcher was that "
Chicken of the Sea
" quote.
"Is this chicken what I have, or is this fish?" she asked Lachey on one episode. "I know it's tuna, but it says chicken. By the sea."
The quote became a favorite around water coolers and in Internet chat rooms after
Simpson
said it.
But confusing chicken for tuna could have its payoff — "
Chicken of the Sea
" told
Simpson
during her visit to their San Diego headquarters in October last year, that sales of the brand have gone up ten percent since she mentioned them on the show.
"We wanted to bring her down and make sure she understood the difference, and told her the story of how the brand name originated," said
Chicken of the Sea
senior vice president of marketing
Don George.
George
, gladly explained the product -
"People thought, 'Well, I know what chicken tastes like and this tastes like chicken.' So, (we decided), let's just make this
White Star
's
Chicken of the Sea
." explained
George
. "Well, that caught on so it ultimately became
Chicken of the Sea
."
"You explained that way better than my husband," Simpson replied to George.
Simpson
even sang the company's old jingle, "Ask any mermaid you happen to see/ what's the best tuna, '
Chicken of the Sea
'."
Contrary to the rumors,
Simpson
has yet to sign as "
Chicken of the Sea
's" new spokesperson - although she'd like to. "You'd think they'd want that after their sales went up 10 percent."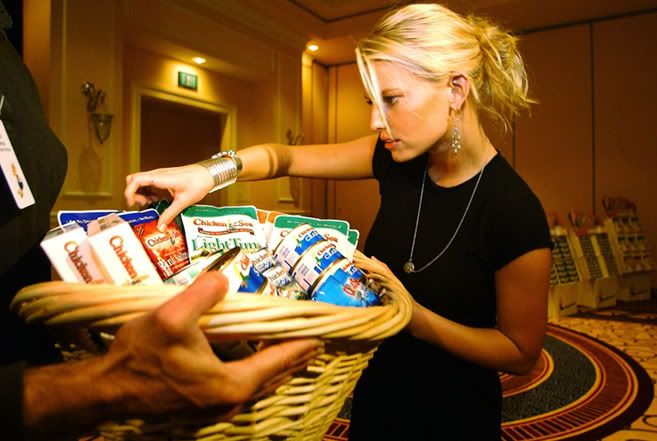 Jessica sampling "Chicken of the Sea's" current products
"I really want to be the mermaid on their can. I think that would be hysterical." - Jessica Simpson.
For the moment, that's not likely, says
George
, who instead attributes the recent spike in sales to "a quality control initiative." "She's helped a great deal in introducing the brand to kids," he says, "but I don't think she'll be our spokesperson." His hand may be forced, however, because
Furano
has been fielding calls from other tuna companies interested in signing
Simpson
.
"Two different companies have sent
Jessica
cases of tuna fish to try out," he says. And
Simpson
admits her loyalty goes only so far. "If '
Chicken of the Sea
' doesn't want me, I'll do
Starkist
," she says. "I know tuna will be involved in there somewhere."
"I knew that it was tuna fish," she said. "I was just really confused because I liked it, and I hate fish, and I thought for a split second there, that maybe it was chicken. Maybe I was confused, and maybe what was really in the can was chicken. And you know, of course, that made me a dumb blonde."
And ever since that and her other notable blunders, making a goof has entered the common parlance as "doing a
Jessica
."
Simpson
sees it as an honor, not an insult. After all,
Britney Spears
,
Christina Aguilera
, and
Mandy Moore
— her pop peers — don't have slang named after them yet.
[quote, articles extracted from
Yahoo!
,
MTV.com
,
ABC News
and The San Diego Channel]