Kylie Minogue and the Ignorance of the West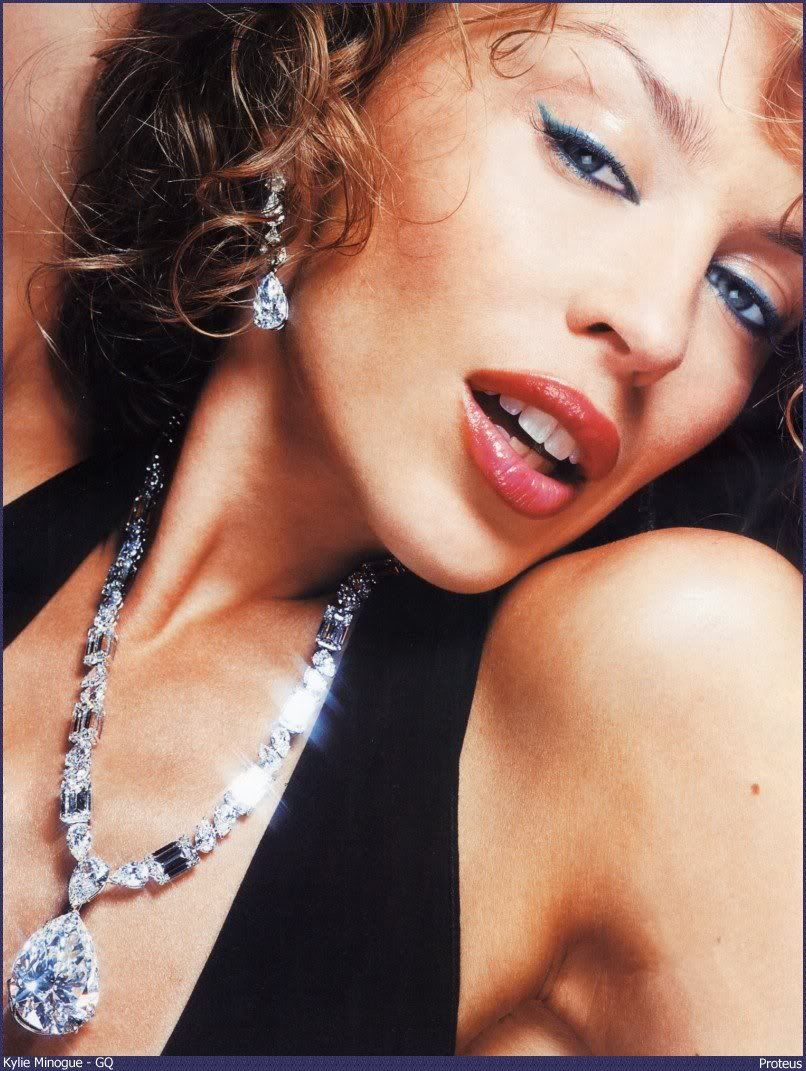 Kylie Minogue and the Ignorance of the West
By
Kevin Killian

The pop singer
Kylie Minogue
was born in Melbourne in 1968 and started acting quite young (age 7 or 8) on such Australian-filmed TV series as
The Henderson Kids
and
Young Talent Time
! As a teenager her role as
Charlene
, the tomboy auto mechanic on the Australian soap
Neighbours
, brought her to national attention. "
Charlene
" was feisty, awkward, sweet; when she fell in love with "
Scott
," the boy next door,
Kylie Minogue
made the cover of TIME Australia arm in arm with
Jason Donovan
, the fresh-faced blond who played "
Scott
." In one episode
Scott
's "footy" team won a spirited match and Charlene grew so exhilarated at the party afterwards that she jumped onto the bar of the local and belted out the old Carole King 60s dance song, "
The Lo-comotion
."
Somehow this episode caught the eye of
Stock
/
Aitken
/
Waterman
(
S/A/W
), then London's pre-eminent pop writers and producers in the old
Phil Spector
mold. They brought
Minogue
to the UK and put her to work in their hit factory, recording dozens of unbearably catchy imitations of
Madonna
's great hits of the mid 1980s. The
S/A/W
brand name, attached to their giant publicity machine, made
Kylie Minogue
a recording star, and her first 15 singles all reached #1 on the UK charts. It's the same old story you've heard a gazillion times before.
Pete Waterman
also imported "
Scott
" (
Jason Donovan
),
Kylie
's offscreen boyfriend as well, as made him sing too, with pointedly less success. The two of them have a majestically awful duet, "
Especially for You
," which makes the
Diana Ross
–
Lionel Richie
"
Endless Love
" sound like
Mahler
in comparison. Most of these early hits are pretty crumby, but the best of them are pleasurable reminders of the permeability of image and the magnificent instability of the sign.
Every now and then I log on to perhaps the best of hundreds of
Kylie
websites, "
Limbo
," to follow excited threads such as, "Who's More Enigmatic—
Kylie
or
Jackie Onassis
?" "What
Kylie
Has taught Me," "
Kylie
's Speaking Voice," "How Tall is
Kylie
—really?" And yet to date I have only met maybe 50 Americans who know who she is, all of them gay men of a certain age and a certain artistic temperament, and only two people—the French photographic duo
Pierre et Gilles
—who have actually met and worked with her. It's almost as if she doesn't exist in America, and yet she's at the center of my universe. Well, that is the feeling, the feeling of insecurity. When we're not together, tell me everything's gonna be all right…
Wolfgang
Tillmans
' photo of
Kylie
shows her sweating in some loud club, a bottle of Carlsberg Lager propped in front of her, she's made up minimally, her hair pinned back behind her ears, she's all propped up listening wide-eyed to some unseen big man with a hairy fist and a giant gold ring who's gesturing towards her with stern authority. Or perhaps he's brushing her cheek with great tenderness. She seems alive—intensely so, but pale, like most of
Tillmans
' subjects, who all look so European and bubblelicious.
She's only 5 feet 1, a toy, in a black T-shirt that's ridden up both arms. I'd like
Tillmans
to take my photo to see how "candid" his subjects really are but they seem like they are all so busy, too busy to notice his lens, oh well we're all on TV all the time nowadays anyhow, it's a fact of life like the climate or the white noise that surrounds us. All the light in the club is directed at her face and hands, which cup her chin, her fingers tapping at her temples. She doesn't look like a great brain. Whose arm is that, with its tattoo, its plastic beaded bracelet, and that gold nugget ring? Her face anointed with oil, the Turner Prize gleaming just outside the frame of the photo.square.club. The odd thing is that
Kylie
herself will never win any awards, for nothing.
In the book
Kylie Evidence
, a group of international photographers and conceptual artists play numerous variations on a single iconic image, the girl next door gone bad, the myth of
Kylie Minogue
. This hideous myth, so dear to my heart, is deployed in often ludicrous contexts. In the "Home of the Dew Drop Fairy,"
Karen Kilimnik
replaces Kylie's image with a big red blowsy rose still life (to show decay), that's being stalked by a cunning little squirrel tasting the glassy dew (to show her innocence). Flip the page, there she is riding a carousel horse, in a sexed-up nun outfit, skirts hiked way up her thigh, in
Pierre et
Gilles
' flashy, nutty hand-colored photo. Poor
Kylie
, detached from the artificial
S/A/W
soundscapes that made her once a beloved mascot for children, here assuming the suffering and fun of all the world. I'll forgive, and forget, if you say you love me so, cos it's true, what they say: better the devil you know.
Kylie
was still dating
Jason
, and still under the thumb of her evil producers, who in turn were determined to keep their cash cow going as long as they could, when she met
Michael Hutchence
, the lead singer of Australia's biggest rock band,
INXS.
Instantly she changed from the girl next door to tabloid heroine. Asked what his hobby was,
Hutchence
is said to have replied, "Corrupting
Kylie
." For he was the bad,
Mick Jagger
-like
Faust
to
Kylie
's
Marguerite
. Everyone loves a good Harlequin romance, and this one was a pip. All of a sudden it was
Jason
who? Under
Hutchence
's spell,
Kylie
turned to drink, drugs, sex, art and bohemianism, and determined also to seize her own image away from her Svengali producers, finally finishing her contract and striking out on her own.
Hutchence
abandoned
Kylie
,—the cad!—for the supermodel
Helena Christensen
, but our girl never looked back, and made a series of more sophisticated, "indie" pop records through which, bit by bit, she lost her core audience but gained a resolute and intransigent fan base of young gay male admirers.
In search of artistic integrity, she attempted collaborations with a number of pre-eminent 90s rock musicians, including
Prince
,
Lenny Kravitz
,
Bono
, the
Pet Shop Boys
,
Nick Cave
,
Robbie Williams
and dozens more, and signed with a small, alternative dance label called "
DeConstruction
." Doesn't that name say it all? Alas, although she rocketed back to #1 on the UK charts with her first
DeConstruction
single, a slow, anthemic Revolver-esque ballad called "
Confide in Me
," subsequent releases failed to do well, and this period culminated in the debacle of her most ambitious LP,
Impossible Princess
, which had the misfortune of being released on the day
Diana
(
Spencer
) died, when British airwaves were ruled by
Elton
John
's treacly
Diana
tribute "
Candle in the Wind '98
."
Of course
Kylie
had acting to turn to. During the
PW
L days she starred in her first film,
The Delinquents
, a 50s coming of age story—like Splendor in the Grass and just as dated. International films came next, but starring opposite
Jean Claude van Damme
in
Street Fighter
and opposite
Pauly Shore
in the ridiculous flop
Bio-Dome
didn't do much for her. She appeared onstage in the Bahamas in an experimental production of
The Tempest
(supposedly the actual setting
Shakespeare
had in mind!) but who is going to go to the Bahamas to see
Kylie Minogue
as
Miranda
? MAYBE
Robert Wilson
?
Baz Luhrmann
, the stylish Australian director, long a
Kylie
fan, cast her in his musical film
Moulin Rouge
, with
Nicole Kidman
and
Ewan McGregor
, but its commercial possibilities seem limited, and
Kylie
's part lasts only forty-eight seconds (she's the Green Fairy on the label of an absinthe bottle, who comes to life, flirts briefly with
McGregor
, and sings an odd snatch from "
The
Sound of Music
").
Nevertheless sheer will power won out and last year, in June,
Kylie
scrapped her arty, nihilistic vision and launched a full-scale return to the pop music that made her famous in the first place, with a new single, a new label, a new album and loads of press, and the music world gasped as "
Spinning Around
" became #1, and succeeding singles have done well too. She was the featured star at the closing of the Sydney Olympics in October 2000. People love that, everyone loves a great comeback.
Light Years
is a marvelous LP, filled with a kitsch instantly recognizable and resonant of 60s, 70s, 80s and 90s pop music and vibrant back beats, quoting from everything under the sun, unmistakably the work of a second- or third-rate talent more precious than any number of big time geniuses. This year there's a new album,
Fever
, released this month,
Kylie
purring over a 1982 bassline nicked from old
Kraftwerk
and
Giorgio Moroder
productions, and a great chart war overseas between
Kylie
and the nuttily popular
Victoria Beckham
, formerly known as Posh Spice, that rivals the war for the Rings of Power. Still the US knows nothing of
Kylie
at all.
If you've read
Irvine
Welsh
's story "Where the Debris Meets the Sea" (from his collection The Acid House), you know that
Kylie
,
Kim Basinger
,
Madonna
and
Victoria Principal
are all sitting around a house in California regaling each other with their private erotic fantasies.
Sam
Taylor-Wood
's video installation "
Misfit
" featured
Kylie
naked, miming the recorded voice of the very last (19th century) castrato. Do we look to her to find out what's she up to next, or who can talk her into what? Who talked her into the recent UK TV appearance duetting with
Ricky Martin
on "
Livin' la Vida Loca
?" She was great, but my goodness,
Ricky Martin
!
Kylie
is continually compared with her alter ego,
Madonna
, a decade older and considerably more famous. Everything
Madonna
does,
Kylie
does too. (
Madonna
already duetted with
Ricky
.)
Madonna
and
Kylie
make an almost religious pair, a diptych of Darwinian selection poked through the tight gaze of funk culture. It's my fantasy of history, poetry, interspecies warfare—that's all.
Kylie Evidence
is awfully like
Madonna
's notorious
Sex
book of the "
Erotica
" period, except it's more varied, well, it has to be doesn't it?
Madonna
is often called the "Queen of Pop," while
Kylie
is the "Princess," perhaps a younger version without the woes and cares
Madonna
is always foregrounding in her public appearances.
Kylie
without genitals, or with the genitals of a little boy, as in
Simon
Henwood
's Darger imitations—naked but for a necklace, tiny tackle and all, permitted only a kind of genital power and a spectral innocence. She's more vulnerable than
Madonna
, but seems more resilient because she's from Australia.
Kylie
knows the raw power of the flat, comic book image, and the internecine enmity between language and image. Evidence plays beautifully along the thin line that stretches between irony and "true feeling," how one is often the obverse of the other, the Mobius strip inside modernism's motor apparatus.
In Berkeley this spring, after a poetry reading,
Ed Gilbert
and I were speaking of
Kylie
in muted voices, and then
John Ashbery
, whose reading we had just attended, spoke up behind our backs. "Excuse me, but did I hear you talking about
Kylie Minogue
?"
"Yeah!" I said, bowing to the polymath
Ashbery
. "How much do you love her?"
He looked bemused but allowed that he had seen
Kylie
's appearance, playing herself, in the UK sitcom
The Vicar of Dibley
. I haven't seen this one myself but apparently the Vicar has rashly promised to get
Elton John
to open the village fete, and the day seems lost until
Kylie
is produced as some kind of acceptable substitute. I hand it to
John Ashbery
as always—I have to, I wouldn't be human otherwise.
Her name—
Kylie Minogue
—is an alphabet from which all meaning has been scooped out, denoting a powerful sovereignty. Re-arrange the letters to spell "I like 'em young." More often than not, the icon is in peril, at the mercy of words. Huge, dysfunctional words knock her over on her side. We her fans are evenly split, some of us preferring the "indie
Kylie
" of "
Confide in Me
" and
Impossible Princess
, some of us rejoicing that she has returned to her pop roots with
Light Years
. In Australia she has become an advertising emblem for "
Pepsi Cola
"—very
Stuart Davis
, clean, cool and marvellously articulated. Words will always spell peril for our heroine, once dubbed the "Singing Budgie." Overdrawn characters hover and rumble, portents seen in an angry dream, suspended in an ominous foreground of pure space.
In 1998 the Japanese DJ
Towa Tei
released a stuttering, techno-house composition called "
G.B.I.
" that features
Kylie
's vocals as disembodied chirps. "Hello/ My name is German Bold Italic/ I am a typeface/ Which you have never heard before/ Which you have never seen before/ I can compliment you well/ Especially in red/ Extremely in green/ Maybe in blue blue blue." She penetrates into the heartless, cutting blitheness of the word. "You will like my sense of style/ I fit like a glove—ooh!/ Gut ja!/ Gut ja!" Cumbersome as office machines on wheels, words—headlines, gossip, innuendo, the language of "hasbeenism"—form layers of occluded meaning, their signs sublimated to the function of marketing tools as they peek around her tiny head in luscious bouquets of sick color. Black and white look best on her, but
Minogue
is a canny colorist and her use of grays, reds and blues is never wrong. Because she is so plastic, she looks different in every video, every photograph, it took me several months to be able to identify her from day to day.
But what does one do with one's enthusiasms? Where do they keep? There's an anxiety in declaring oneself a
Kylie
fan—similar to how coming out used to feel. (Nowadays it's the same exact thing I suppose.)
Dennis Cooper
can say, "Oh, I'm influenced by
Bresson
," and people will nod with approbation, even if they're thinking of
Cartier-Bresson
. I suffered some credibility loss while under the spell of
Dario Argento
, but nothing like the waves of shame and misery that engulf me when people say, "
Kylie
who? That girl who did '
The Lo-comotion
'?" I think I like her because she reminds me of myself, I don't have
Dennis
' genius, not to mention
Bresson
's, but like
Kylie
I can stretch out a second or third rate talent and make it mean something by a) insisting on its smallness; b) attempting to push the envelope, usually by collaboration with others and c) feeling no guilt when, in a corner, at the end of my tether, or upset by something in my personal life, I retreat to my roots and produce version XYZ of the thing I know you'll like from me. Do you think
Kylie
's work is all about post Colonialism? That "
Tempest
" production sure was. "
Kylie
" is said to be the Maori word for "boomerang." This is often noted approvingly, as a boomerang "comes back" as often as
Kylie
has, but is it at all plausible? Queens appreciate the pathos of the
Kylie
legend, its cheesiness itself enormously appealing, the way
Kylie
survived a precocious stardom as "
Charlene
" to have sex with
Michael Hutchence
, who's not all that well known himself, and then to not even be the girl he hung himself because of. There's no
Dennis Rodman
in
Kylie
's back room; of course there were
Prince
and
Lenny Kravitz
. I flip through picture after picture, poke them out across the rug: an obsessive rendering, a trip-hop world of displacement and deracination good to go.
Kylie Minogue
isn't the first artist to find beauty in
Freud
's "uncanny," nor the first to locate the unheimlich squarely in the detritus of today's commercial culture. A purposive, kitschy flatness of gaze underlines her determination, the steadiness of her eye. What emerges is touching, almost saintly. Her critics say her voice sounds as though she's reading all her words off a prompter, that she lacks heart. Often she sounds as though English were not her own language.
Kylie
fans re-settle the unsettling haunt of sexuality by our insistence on customization—adapting, subverting its broad strokes to our own homey use. It's this impulse—gears shifting downward from public to private—that
Kylie
understands and illuminates beautifully. She extends this generosity to her own art, which seems unfinished, left to complete by the viewer. Thus there's an empty, spooky sigh at the heart of this work.
Iconic objects take on eerie lives of their own and no one knows their business, not even the moguls at Skywalker Ranch who control everything else. I can spot a fellow fan of
Kylie
's halfway around the room. We share a "secret understanding" akin to
E M
Forster
's concept of homosexuality as a willed gift. Cold hard tears seep from this work, tears shed for an implacable universe of wanting and wishing and denial.
WORKING NOTE
"Kylie Minogue and the Ignorance of the West" was delivered at the Kootenay School of Writing in Vancouver, Canada, February 2002. An earlier version of this piece was printed as "Kylie Evidence" in Trepan #1 (Valencia, CA: Cal Arts), Spring/Summer 2001, pp. 130-5.

Bio: Kevin Killian, born 1952, is a poet, novelist, critic and playwright. He has written a book of poetry, Argento Series (2001), two novels, Shy (1989) and Arctic Summer (1997), a book of memoirs, Bedrooms Have Windows (1989), and three chapbooks, Desiree (1986), Santa (1995), and The Kink of Chris Komater (1999). His latest collection of stories and memoirs, from Painted Leaf Books, is called I Cry Like a Baby (2001). His previous book of stories, Little Men (1996) won the PEN Oakland award for fiction. For the San Francisco Poets Theater Killian has written thirty plays, including Stone Marmalade (1996, with Leslie Scalapino) and Often (2001, with Barbara Guest). His next book will be all about Kylie Minogue.
_extracted from
Kevin Killian