German Bold Italic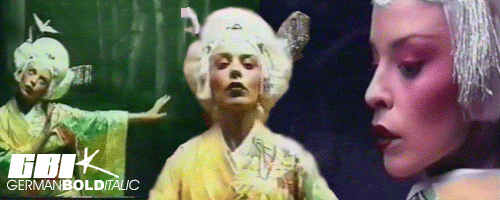 Geisha Kylie, German Type Faces and Güt Ja!
In 1998 the Japanese DJ
Towa Tei
released a stuttering, techno-house composition called "
G.B.I.
" that features
Kylie
's vocals as disembodied chirps.
HELLO. MY NAME IS GERMAN BOLD ITALIC. I AM A TYPEFACE. WHICH YOU HAVE NEVER HEARD BEFORE. WHICH YOU HAVE NEVER SEEN BEFORE. I CAN COMPLEMENT YOU WELL. ESPECIALLY IN

RED

. EXTREMELY IN

GREEN

. MAYBE IN

BLUE BLUE BLUE
She penetrates into the heartless, cutting blitheness of the word.
YOU WILL LIKE MY SENSE OF STYLE. I FIT LIKE A GLOVE -
OOH! GÜT JA! GÜT JA
Cumbersome as office machines on wheels, words—headlines, gossip, innuendo, the language of "hasbeenism"—form layers of occluded meaning, their signs sublimated to the function of marketing tools as they peek around her tiny head in luscious bouquets of sick color. Black and white look best on her, but
Minogue
is a canny colorist and her use of grays, reds and blues is never wrong. Because she is so plastic, she looks different in every video, every photograph, it took me several months to be able to identify her from day to day.
_ article extracted from
Kevin Killian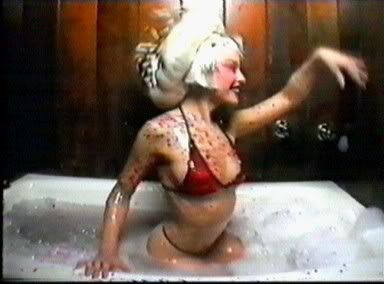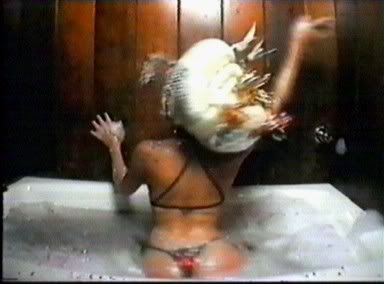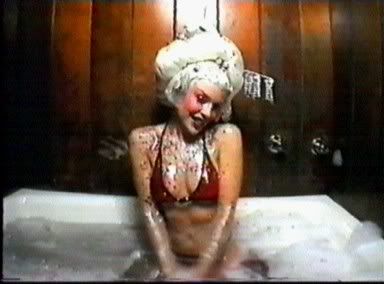 Directed by
Stéphane Sednaoui
, Ms.
Minogue
is seen prancing around Tokyo and New York dressed as a Geisha girl - telling us about her like for type faces and colours. Ornate hairstyle and elaborate kimono discarded, "
G.B.I.
" is actually a brilliant slice of Japanese avant-garde pop.
The track is so self-consciously mechanical that it's tempting to read all kinds of profound social insights into it. It seems like a small bit of brilliance to create a song with a typeface as a narrator, like some kind of comment on the coldness and distance of computer-mediated relationships - but it works!
Credits
Lyrics
Towa Tei & Kylie Minogue
Music
Towa Tei featuring Kylie Minogue & Haruomi Hosono
Additional Synthesizer Manipulations
Hideki Matsutake & Takshi Fujii
Arangement, Edit, All Drum & Keyboard Programming
Towa Tei
Official Remixes
Album Mix 04:17
Album Version 06:57
Ebony Boogie Down Mix 05:14
German Bold Light Mix 02:49
Intro 00:26
Kylie-pella 01:40
Radio Edit 03:31
Radio Edit Mix 04:17
Rekut 08:15
Sharp Boys Dee-Liteful Dub 08:58