David La Chapelle vs. Kylie Minogue
Yesterday's tabloid post was unfairly presented. In trying to keep up with all the wonderful goss on Ms.
Minogue
, I have resorted to dirty, tantilising, scraping-at-the-bottom-of-the-bucket "news". I sincerely apologise.
Actually...it was all set up! I found that scanned article on the the wonderful world wide web and could not stop laughing! Not only because it was the lowest form of humour and goss, this "news" item is actually an elaborate shot disguised as a photo shoot.
In February 2002,
Kylie Minogue
teamed up with the magician of portrait photography,
David La Chapelle
for promotion shots of her album "
Fever
" in the US. In true "
La Chapelle
" style, here are the stunning results -
Kylie Riding Her Bike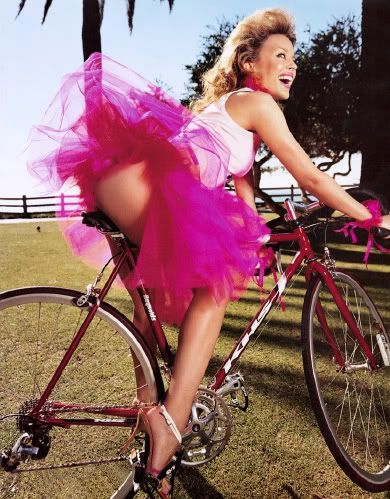 She looks so happy, her big teeth showing between her big lips...and that famous derriere barely covered by her girly pink tutu. Um, actually who rides a bike in 5-inch stilettos?
Kylie
!
Kylie Falls Flat On Her Bike
Oh! How embarrassing! I know if I were
Kylie
, I wouldn't want the world seeing this...well, hey!
David La Chapelle
is on the end of that camera! Oh, so it must be alright. It will turn out stunning, as he can make someone awkward into art.
Oh wait...this was all set up. As one shocked unnamed
forum member
mused,
"She dont even look in pain or anything, I don't think she fell off it for real." - Anonymous forum member
Um. That member shall remain unnamed.
To which, another
forum member
replied "Hello?....that's soooo fake! Have you ever fallen off your bike in that manner? LOL" I have to agree with this person. And of course, no-one
BUT
Kylie
can fall off her bike in that manner, and expose her famous derriere for the whole world to see.
Fun With Rollerskates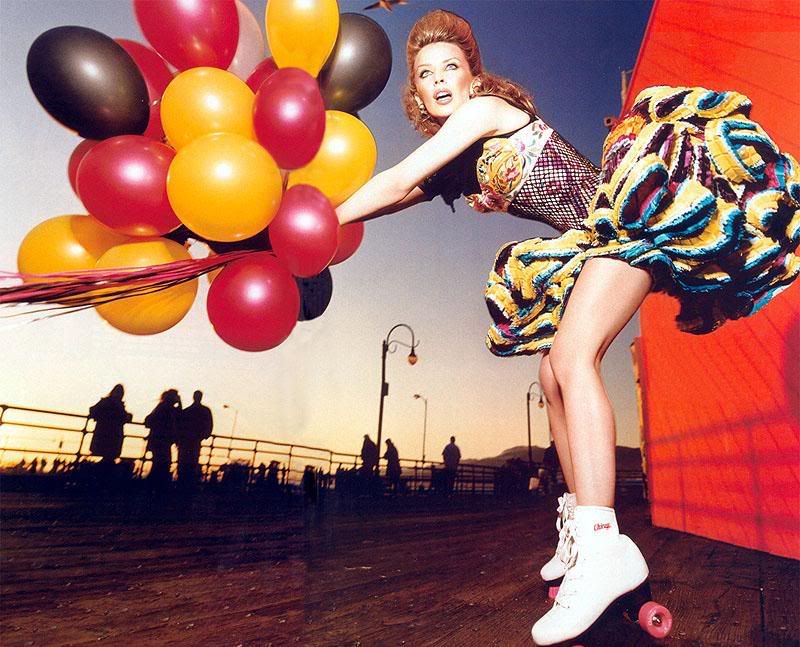 Well,
Kylie
has had enough of riding bikes in tutus and 5-inch stilettos and swaps her outfit with an 80's inspired "dress", balloons and rollerskates. Why? Who knows! This is the psychedelic world that is pure
La Chapelle
.
[images from
David La Chapelle
]