Sex & Cigarettes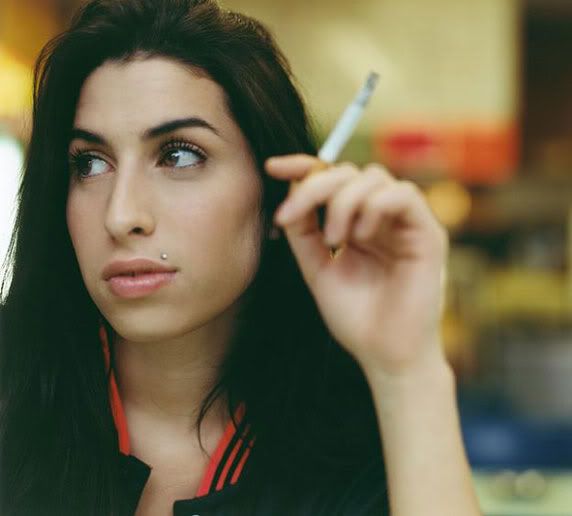 No longer is rock all about sex, drugs and alcohol. Jazz is the new state. Step in
Amy Winehouse
, a neo-soul jazzer, born and raised in North London. Seriously fresh, addictively bad - her sound is late 40's, thrown in with hip-hop beats and a nasty lyrical content.
Amy
has a saucy, universal, obsessive, seductive, smoking appeal. With a firery attitude and grinding bass lines, she constantly sends up her own songs - whether it be sultry, teasing, grieving or soulful. Touted as the next big thing in British jazz and neo-soul,
Amy
's critically acclaimed debut album "
Frank
" clearly sets her apart from any
Jamie Cullen
,
Norah Jones
and crooner,
Michael Bublé
.
At the wise old age of 20,
Amy
is a force to be reckoned with. Exciting, urban and gritty, this talented artist has come of age to even warm next to the audio pleasures of
Erykah Badu
and even
Lauryn Hill
. Of course the comparisons come is fast and thick. Although rivaled in sound, the comparisons should come from
Dinah Washington
and
Ella Fitzgerald
.
Noting both as influences in her life,
Amy
muses on
Fitzgerald
's perfect technicalities and
Washington
's style. "
It's the style that is so important
." she ponders. "
I always loved to sing but I didn't think it would make me any money ever! I always thought it would be the one thing I would always have for myself, that I'd make my money elsewhere. But I was wrong
."
Regardless of the profession she is now immersed in, her songs are still deeply personal, despite all the ramblings, swearing and bitterness. "
When you get to a point where you're so fucked up about one particular thing, you have to write it down. Before you know it, you've got a song. I've probably saved thousands of pounds on therapy
!"
As most of her reflections on "
Frank
" is man-eating and explicit in the dealings of male weakness,
Amy
laughs at the reminder of her ex. "
When we used to see each other I used to give him songs as I was writing them, so I know he's heard 'You Sent Me Flying' and 'Take The Box'. He must of heard 'Stronger Than Me' because I spoke to him and he was like "Amy, you called me gay" I was like "I didn't call you gay," and then I said "Are you gay? I asked you if you were gay, and you didn't respond, so its very open ended.
"
Always on the verge of controversy, the line in "
Stronger Than Me
" has opened a pandora's box full of subtleties and eyebrow raising questions. "I
'm not gonna sit here and go "all my friends are gay" although they are, I'm not gonna sit here and be a prick like that but?.that line is contextual. I'm talking to my boyfriend, saying you should be stronger than me. And he's like a big woman. The line "Are you gay" is asking "DO you find me attractive or are you attached to men? What's going on here? He wasn't sexual like I was sexual, and I thought maybe he was just hiding stuff from me and himself
."
Tantalisingly sexual,
Amy
doesn't shy away that she has become a baby gay icon! Reveling in her quirky self, she recalls - "
A journalist came up to me last night after we'd finished the interview and he said to my manager "Shes really camp" I said "I'm a girl, how can I be camp? I must be a gay man trapped in a woman's body". He asked me to repeat that in his tape recorder so that he could quote me. So I did and he asked "What makes you say that?" And I was like " You just told me to!
"
Not accustomed to the bright lights of showbiz,
Amy
definitely does not restrain her dissatisfaction and somewhat, envy of more successful contemporaries.
"Madonna is an old lady. She should get a nice band, just stand in front of them and sing."
She said. On
Dido
-
"Kids listening to her thinking 'I want to be like Dido' makes me want to vomit."
And definitely not last, on
Britney Spears
-
"I wish her luck with her marriage - I hope it stops her going into the studio."
Outspoken and feisty, she honestly admitted -
"I'm slightly bitter because I haven't sold as many albums."
[quote, extracted from an
interview by Lucie Greene - A University of Nottingham Impact Magazine article
].