Fuck Me Pumps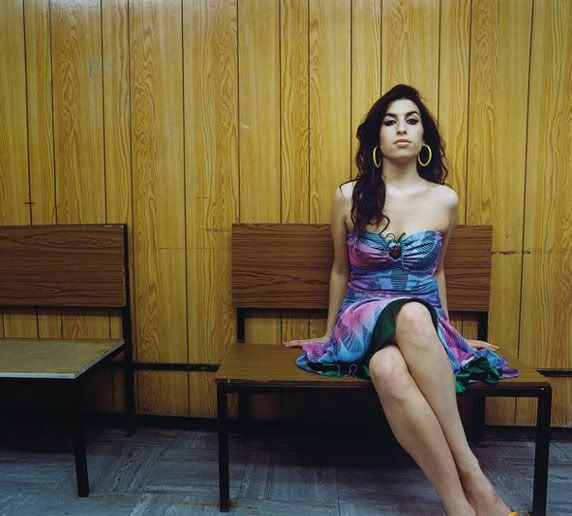 YOU CAN'T SIT DOWN RIGHT, COS YOUR JEANS ARE TOO TIGHT. AND YOU'RE LUCKY IT'S LADIES NIGHT. WITH YOUR BIG EMPTY PURSE, EVERY WEEK IT GETS WORSE. AT LEAST YOUR BREAST COST MORE THAN HERS.
Co-written with
Salaam Remi
,
Amy
ridicules "girls who genuinely think they have to go out and meet an athlete, and then their life will be perfect." In what could be the most offensive, yet bluntly told tale of the oh-so fabulous lifestyle of the common "bird", Amy uses her acid jazz to swear, cajole and poke fun at.
Not only does she manages to state the obvious,
Amy
is also female. In the typical tale of misogynistic overtones, usually reserved to slick male chauvinists, this is more a complete send up of the female kind that has erased all progressions in equality and respect built up by the feminists movement over the past few decades.
However, you have to listen carefully to
Amy
's observations and not laugh along with her. She certainly know how to capture a gasp from the traditional jazz appreciator and also reel in the youthful with her bad sailors mouth, funky beats and cut-throat lyrics. This is acid jazz - dressed up to the nines.
LYRICS
When you walk in the bar,
And you dressed like a star,
Rockin' your F me pumps.
And the men notice you,
With your Gucci bag crew,
Can't tell who he's lookin' to.
Cuz you all look the same,
Everyone knows your name,
And that's you whole claim to fame.
Never miss a night,
Cuz your dream in life,
Is to be a footballers wife.
You don't like players,
That's what you say-a,
But you really wouldn't mind a millionaire.
You don't like ballers,
They don't do nothing for ya,
But you'd love a rich man six foot two or taller.
You're more than a fan,
Lookin' for a man,
But you end up with one-nights-stands.
He could be your whole life,
If you got past one night,
But that part never goes right.
In the morning you're vexed,
He's onto the next,
And you didn't even get no taste.
Don't be too upset,
If they call you a skank,
Cuz like the news everyday you get pressed.
You can't sit down right,
Cuz you jeans are too tight,
And your lucky its ladies night.
With your big empty purse,
Every week it gets worse,
At least your breasts cost more than hers.
So you did Miami,
Cuz you got there for free,
But somehow you missed the plane.
You did too much E,
Met somebody,
And spent the night getting cane.
Without girls like you,
There'd be no fun,
We'd go to the club and not see anyone.
Without girls like you,
There's no nightlife,
All those just go home to their wives.
Don't be mad at me,
Cuz your pushing thirty,
And your old tricks no longer work.
You should have known from the job,
That you always get dumped,
So dust off your fuck me pumps.