Joe's Pub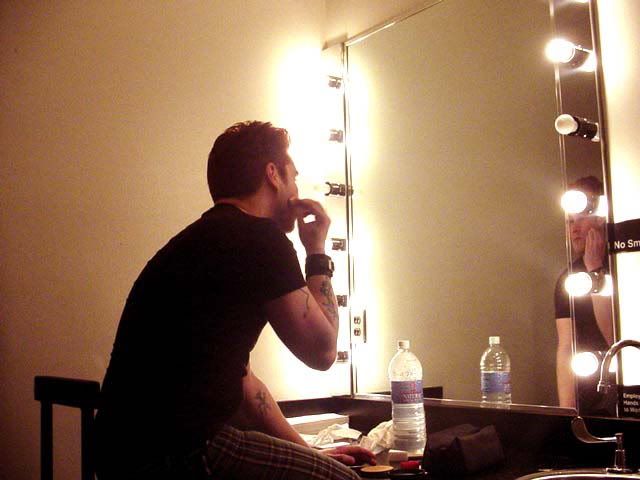 [quote, backstage at
Joe
's Pub in NYC]
It was here, February 26, this year that the fresh-faced, wise and talented musician performed - showcasing the much emotional, deeply personal and somewhat angst-ridden songs on life, love and relationships. The power and rawness of it catches everyone by surprise - not expecting the youthful man with eye-catching red hair to stun the audience during his musical debut on stage.
Maybe it was the exuberance of the artist, perhaps it was his honest and hurting lyrics. Maybe it was the flash of red, the sparkle of the stage light, or the brilliance of his piano skills. Perhaps it was his frank discussion of his fragile childhood.
"I was a very sensitive, tortured child,"
Stratton
admitted. "I didn't have a bad childhood necessarily, I guess unhappiness was in my nature. I tended to ruminate about things."
Stratton
uses the darkest parts of his life and brings them out to life - blooming them with introspective, heart-chilling ballads about pain and suffering. But like true artists,
Stratton
is an overachiever and a social misfit. Truly honest. Pure grit. Somewhat beyond the maturity of his young years, his passion began in classical music. Immersing himself in an array of instruments and music writing, pursuing the commercial music industry hasn't been enlightening.
However, always making the most out of every situation,
Stratton
learnt quickly the dealing and politics and the behind-the-scenes look at the juggernaut of the entertainment business. To many,
Stratton
's decision to veer off classical music was an ill-wise move.
"Everyone turned against me," the singer pondered. "It was an important early lesson because betrayal happens in the music industry over and over. I proved I can stay the course and succeed, as long as I have the passion. Instead of sitting around being depressed, I said screw them, this is what I'm doing and you can't stop me."
But is this "selling out"?
"There was a lot of pressure to sell out," to which
Stratton
coldly replies. "When I began in the mid-90s, it was about being a slick entertainer and hawking an image. That's not what I wanted to do. Mostly I wanted to be a singer-songwriter but they were not in style at the time."
"It's one thing to resist selling out when no one is paying attention to you,"
Stratton
explained. "But when record companies start sniffing around and dangling contracts in front of your face, it's an entirely different story. It takes a lot of stamina to say no thank you. I would rather wait tables then betray my artistic integrity."
And artistic integrity is something
Stratton
possesses abundantly. So much so, not necessarily trying to prove himself, he writes all his music on "
Standing At The Edge
", plays the piano, sings all the backing up vocals and even arranged the strings on his album. A master feat for any musical prodigy. However, to make sure the young artist stayed guided and focus,
Pat Leonard
was enlisted to co-produce the album. The A-list producer who had his share of stardom with
Madonna
,
Elton John
and
Jewel
,
pushed
Stratton
vocally, technically and emotionally.
"He respected what I was doing and I respected what he was doing," explained
Stratton
. "We really listened to each other. If I wanted to change something and had a valid reason, he let me. He did not push me in a direction I did not wish to go."
Did it pay off?
All you have to do is sit and hear
Stratton
's clear, sweet vocals ring above the twinkling of the ivory keys to know that this is a true talented performer. Without all the fanfare, the electronics, the production, his songs speak honest and truth to his audience. And it is this very connection that makes
Casey Stratton
above the rest.
[quote, article quotes extracted from
David Kennerley's article
, 2004]