Standing At The Edge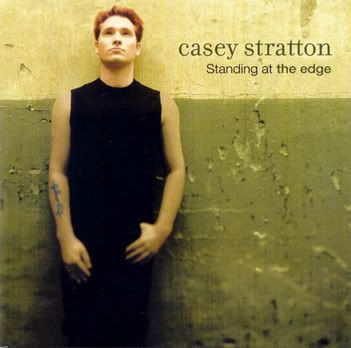 CASEY STRATTON
Standing At The Edge
Review by Reuben
"
Standing At The Edge
" is a testament of strength, will, and longevity. And that's just not the music. An achingly personal album,
Casey Stratton
surely does not censor or play down his feelings and emotions. This debut album for
Odyssey
is mature, strong and surprisingly satisfying for this unheard, youthful but ambitious singer songwriter. With blatantly clear, simple and honest poetic lyrics,
Stratton
exposes us more than his age tells us. Marked by the experiences of life, relationships and his struggles in both his personal and musical journey,
Stratton
has aged with wisdom and depth and character.
In true veracious manner, this offers something deep, dark and melodic. But don't let his brooding nature overwhelm you. In his attempt in producing a very adult contemporary album,
Stratton
doesn't cover all bases of love, rejection and joyful glee. Instead, his album is very deliberate, intensely focused and rewardingly beautiful. In touching us with unique, high vocals and incredibly complex arrangements,
Stratton
surely does not tremble lightly.
The opening, "
For Reasons Unexplained
" sets a very high standard. Melodic piano arpeggios and
Stratton
's angelic vocals compels us to listen closely. You can hear the ache and low self esteem as he sings about sorrow, fear and paralysis. This is definitely not one for the faint-hearted.
Statton
opens his heart and not only does he bare his soul to his listeners, he has the ability to draw us closer to him and draw out our experiences, pain and suffering as well.
His soulful cry in "
Contagious
" is infectious. Not only can
Stratton
reduce us to tears, but even if we had never experienced such heartache, we can understand and listen and sing along as if it was about us. He almost warns us "I tried not to notice the signs / your words so unkind / you stayed far too long / in my life".
However, not all his music complement his lyrical content. In "
Violet Room
", a rather spriteful guitar strums away to the a brisk drum beat, however
Stratton
sings about a friendship that should never progress. A hidden agenda perhaps? But he sings "will wonders never cease to amaze me? The way I collide with what you need / I pulled you too close / I must learn to let you go / and find my way back to the land of dreams." An apparent contradiction? A friendship that perhaps to come together in intimacy? We will never know.
The album ends with an abrupt change in style. "
Cellophane
" has the distinct make of
Pat Leonard
's augmented synth notes and "
Bloom
" carry the heart and weight through a stunning array of heavy strings. It is here the tone of
Stratton
's pain and suffering is realised - of the need of deep solace, friendship and intimacy. The intense urge is sung out "I don't want to breathe without you / I don't want to be without you / I don't want to sleep without you / I don't want to laugh without you / I don't want to die without you / I don't want to love without you / I don't want to bloom without you."
Touching and sad, this is what everyone faces at the end of the day - when we are standing at the edge.