Wolstenholme? Christopher Tony Wolstenholme? Cheers!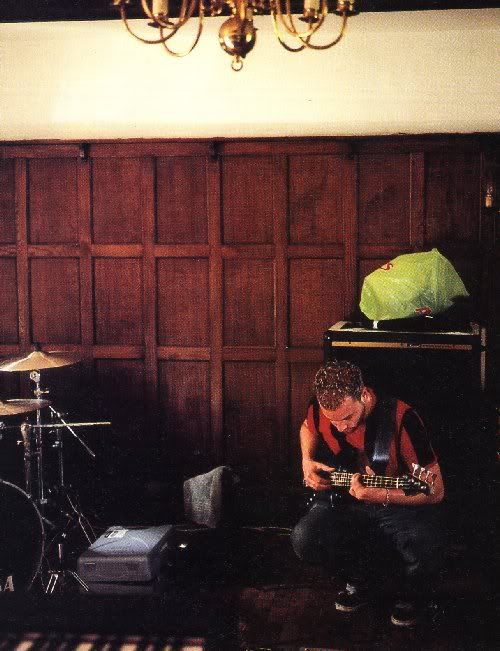 Nicknamed "
Cheers
",
Chris
-with-the-complicated-surname
Wolstenholme
is one-third of
Muse
, holding the fort [somewhat] on bass guitar. Even though
Chris
comes up strong with some of the heaviest, craziest bass riff as song openings [think "
Hysteria
" and "
Time Is Running Out
"], it is a known fact that
Chris
plays several instruments. He began first with the guitar, then the drums and later on the bass, which he felt more at ease with. He even came to play the double bass for a while on stage with
Muse
, as seen in the music video clip to "
Unintended
".
Chris
was inspired to a career in music from the music lessons he had as a child. His first band, at the tender age of 13 was "
Fixed Penalty
" and
Chris
played the drums. It was only a few years after did
Matt
and
Dom
pinched
Chris
for their new trio, "
Rocket Baby Dolls
" to play bass and backup vocals. And the rest is history.
This marked an era in British music, with the dawn of "Britpop" exploding onto the musical stage,
Matt
,
Dom
and
Chris
turn their backs and focus on American bands such as
Primus
,
The Smashing Pumpkins
,
Sonic Youth
,
Rage Against The Machine
,
Nirvana
. It was these influences that significantly marked their youth and music. Only one British exception was notable:
Radiohead
. "
The Bends
" and "
Nevermind
" from
Nirvana
certainly being THE two quintessential albums altering their musical concepts.
It was at this stage that especially
Chris
, with
Dom
's support and
Matt
's blinding vision, that they finally found found within themselves a real sense of innovation, authenticity, and a deeply personal exploration that made them unique, diametrically opposing them to the simple exercise of imitation the Britpop possessed. Rapidly renaming themselves to
Muse
, the three friends now had an agenda and instead of an escape and sense of rejection of their cultural, social and geographical background; music becomes a passion, a way of expressing themselves. And the rest is history.
Chris
is so far the only band member to be married with two children, giving him a more mature and sensible image than those of his two "cronnies".
Cheers.
[quote, biography extract from
MicroCuts.net
and
Muse-Fanatic
]