Faith, Religion & Aliens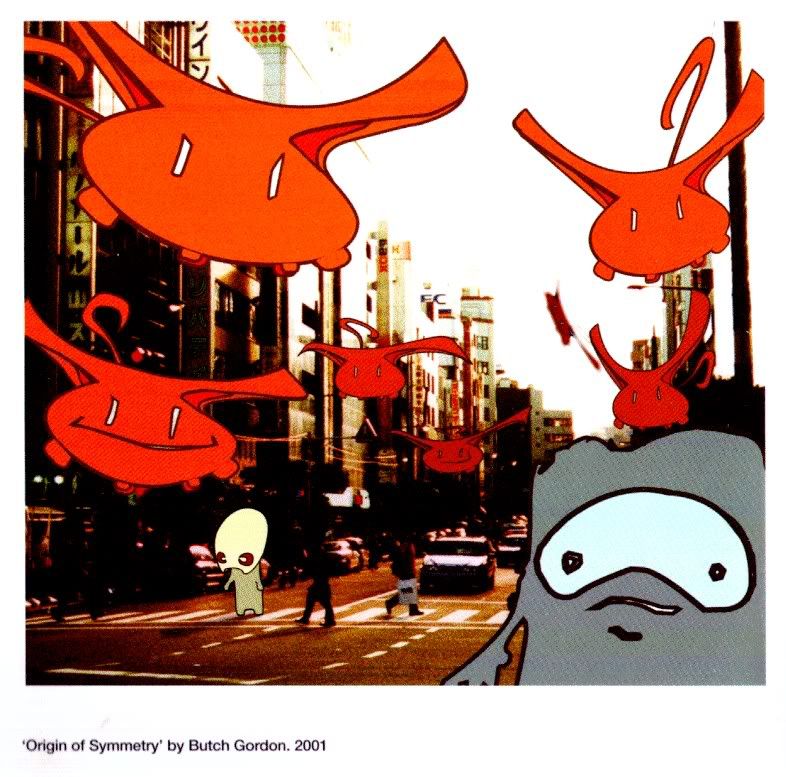 [quote, inlay by
Butch Gordon
from "
Origin Of Symmetry
"]
MUSE vs FAITH
Interesting topic here [quote, taken from several board members and myself - official
Muse Board
]. I guess for me,
Matt Bellamy
(since he's the sole lyricist) is definitely questioning his belief. Definitely from a dark, moody and sombre mood (I wouldn't say anti-religion/Christian, not even his admission on "
Megalomania
") from "
Origin Of Symmetry
" to the much lighter (but rockier) "
Absolution
", there is a common theme. "
Apocalypse Please
" deals with oppression and the cry out to God to come down and bring an end to this world/mess - or help this world from complete destruction. It is quite evident that Matt is questioning, if a God exists, then He must give us (
Bellamy
) a miracle.
From Rock Sound Magazine

The singer's religious beliefs are a continuing inner debate played out throughout the bands discography, and most recently "
Apocalypse Please
" from the latest opus, which deals with 'the relationship between you and your religious fanaticism.' The source of much scientific and spiritual questioning,
Bellamy
is currently non-religious, but all that could change.
"I don't really know what I believe, my belief changes every five minutes, that's the problem,"
he concedes.
"The reason why it all comes out in the music is that music is the place where I think about all that stuff. I keep thinking about it because I cant settle on anything. It does worry me. I don't know what I'm going to do when I die; you've got to go somewhere. If you can't do that, you just panic. Making music is some kind of placement for that area; it's the only thing that makes me feel something beyond what is there.''
"I feel the same,"
admits the drummer.
"None of us are really religious people and I think, if anything, it's more of a confusion thing and not really knowing what to believe in. It's all about feeling comfortable if you have to face death, feeling like you are going onto somewhere else. I don't have any strong beliefs in any religious way."
''I think no one feels they have to believe until they are faced with something of a hard nature, if life's okay then they don't need to believe,"
adds
Bellamy
.
"If you were faced with something like cancer then it would be a whole different ball game."
Having said that,
Bellamy
does have a plausible explanation of origin that's more
Von Daniken
(author of "
Chariots of the Gods
"), than
Darwin
.
"I think our DNA was mixed with a species of outer space and apes......"
and off he goes on his theory of evolution. Bless him.
Bellamy
was referring to the fact he didn't have a religious upbringing, and thus music has become his "religion". But my guess is, he was referring to the fact that playing music brings him "higher" to the source of life. Perhaps he's talking about his uplifting of his spirit or soul, in connection to his maker. It's interesting to hear the compensation he had to go through, in order to get to a place where he feels closer to God [or the source of life]. It's interesting because I'm not sure if he has any kind of Christian teachings or experience in a religion to make that comparison. It just goes to show the reality of Christianity, and how deeply rooted it is within our lives as human beings.
Also, in one of his recent interviews,
Bellamy
has been known to say that he loves listening to operatic /choral music - generally from the Romantic or the Renaissance period -
"I do love rock music, but when I hear that Romantic stuff, it sounds like the meaning of life," he says, passionately. "It's as though the composers were using the peak of their intelligence to express the deepest of emotions. And this gives me hope. When I hear choirs singing that Palestrina stuff, I think, there is a God - there is a heaven!"
Interestingly, composers weren't just using their peak of their intelligence to express their deepest of emotions, but also their faith in God. The romantic period of music has been often linked as the bridge to Christianity (due to the feelings, the emotions and love predominantly being the central theme of "romanticism"). Also, German poets, such as
Friedrich Schlegel
declared that romanticism was a product of Christianity. And I guess when
Bellamy
hears "Palestrina stuff", there is a deep soul connection with the music and this God. Only he will know what he feels or thinks and if there is a connection with God! As a side point, most of the chorales were composers trying to mimic the "choirs of angels" in heaven!
Commentary [edited] -
by
Brendan Boughen
02.08.2004
Hail the new kings of agnostic rock! Sounding like equal parts
Radiohead
,
Coldplay
and
Jeff
Buckley
but with a distinctively bombastic classical bent,
Muse
are the latest Brit-rock export sensations alongside
The Darkness
to dazzle international audiences. However, while the latter band drains the 'camp' barrel to the dregs,
Muse
manages to weave a decidedly serious philosophical thread through their complex, Romantic compositions.
The regular use of exuberant classical piano amidst the fuzzy guitar and bass raises the music to greater heights. And believe it or not,
Muse
are a trio. How they can get this much texture and depth to these songs with such aplomb astonishes me. In concert,
Bellamy
reported jumps from instrument to instrument to achieve the massive sounds, and it is perhaps this urgent, plate-spinning musicality that also demands that the pauses in between his lyrics are desperate gasps for air, rather than gentle breaths. Indeed, lyrically,
Bellamy
is a terrified paranoid prophet screaming in the wilderness that the end of the world is nigh. This is certainly prefigured in the vision of the Biblical Rapture depicted on the cover. (I suspect
Bellamy
imagines he would be left behind in such an event.)
Nevertheless, he screams his message loud and clear:
"Declare this an emergency, Come on and spread a sense of urgency, And pull us through, This is the end of the world. It's time we saw a miracle, Come on, it's time for something Biblical, To pull us through, This is the end of the world. Proclaim eternal victory, Come on and change the course of history, And pull us through, This is the end of the world"
[quote, "
Apocalypse Please
"]
With the pounding piano and soaring vocal of this opening track,
Bellamy
also begins a manic conversation with the divine. As an admitted atheist, it's fascinating that his obsession with religion and God is so prevalent.
Bellamy
is being very specific in singling out Christianity. It's the only faith that calls on miracles, being Biblically based, and having eternal victory [ed].
Through almost every track, clues are laid down to the tumultuous spiritual path Bellamy seems to be walking.
"There's nowhere left to hide, in no-one to confide. The truth burns deep inside and will never die. Sing for absolution, I will be singing and falling from your grace. Lips are turning blue, A kiss that can't renew, I only dream of you my beautiful. Our wrongs remain unrectified, And our souls won't be exhumed"
[quote, "
Sing for Absolution
"]
"It's bugging me, grating me and twisting me around. Yeah I'm endlessly caving in and turning inside out 'Cause I want it now, I want it now. Give me your heart and soul, And I'm breaking out, I'm breaking out. Give me your complete control, And I want you now, I want you now. I'll feel my heart implode, Escaping now, feeling my faith erode"
[quote, "
Hysteria
"]
After describing himself as "the priest God never paid" in "
The Small Print
",
Bellamy
drives the album to its penultimate song "
Thoughts Of A Dying Atheist
", in which a deathbed conversion tethers on the brink of a lifetime of rationality.
"Eerie whispers trapped beneath my pillow, Won't let me sleep, your memories I know you're in this room, I'm sure I heard you sigh. Floating in between where our worlds collide I know the moments near and there's nothing we can do, Look through a faithless eye Are you afraid to die? It scares the hell out of me, And the end is all I can see"
[quote, "
Thoughts Of A Dying Atheist
"]
Fear of death does not hold Christians down. Not even death could hold Jesus down. Once again,
Bellamy
is questioning about life after death. He knows when the moment arises, will there be a place for him? Does the very thought of dying bring up something called "faith" in him? Or does it bring up fear? You decide [ed].
Musically, this is a truly stunning album that incorporates grand classical impressions against a backdrop of postmodern grunge-pop. It is utterly unpredictable, as intense metal riffing gives way to lilting piano arpeggios and then drops to the floor again with massive crunching chords. It will survive many, many listens and never bore. Lyrically, it is a bright glimpse of a seemingly tortured soul that glories in the passion of life as much as it writhes in existential turmoil. This gives the music a vitality that, in my mind, contemporary Christian music never comes close to matching for all its surety. So, muse along with
Muse
and challenge yourself to struggle along with them. I guarantee it will be a rewarding trip.
http://www.tollbooth.org/2004/reviews/muse.html