I Do This All For You
[quote, "Dazed & Confused" September 2004]
Well, as the end of August draws to a close, the "Björk" special will also end. Another new artist or band will feature in the month of September. However, don't expect a quick update, as this is labour intensive and creatively draining! But hopefully it will be as exciting and visually stunning as it has been.
Another spectacular event that is also drawing to a close, is the Athens Olympics Games. As you know, Björk was the only performer of the Opening Ceremony, where she performed for the first time, the wonderful "
Oceania
". Lynn Fox, the visual collective, produced and directed the stunning visuals as a backdrop to Björk and here is the original visual treatment -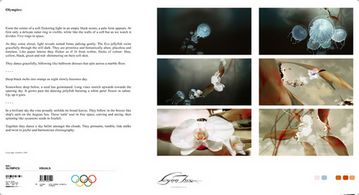 [quote, Björk in "
Unravel
" by
Lynn Fox
]
In other emerging news, R&B self-confessed "
Milkshake
" diva, Kelis has re-recorded "
Oceania
" into a slamming Mark Bell-inspired remix. In the countless rumours about Kelis working with Björk, finally BBC1 premiered the "radio-only" mix of "
Oceania
", which features hard, industrial beats over the song, and a new set of lyrics, sung by Kelis.
Lyrics to Oceania Radio Mix
Kelis:
I am the continent,working with the moon
No one ----
But I've always ------
There are worlds of things within me.
My bellys always full
Freedom's ----
Yes, my heart is deep within
Nations dive and trust me
Nations dive and trust me
I lay them at my shores
They dance with me in time.
Björk:
You show me continents -
I see the islands
You count the centuries -
I blink my eyes
Björk:
Hawks and Sparrows
Kelis:
(Theres no one I can't reach)
Björk:
Race in my waters
Kelis:
(Only I reflect the sky)
Björk:
Stingrays are floating across the sky
Kelis:
(My power is infinite)
Kelis:
(I do this all for you)
Björk:
Little ones
Kelis:
(I do this all for you)
Björk:
My sons and my daughters
Kelis:
(I do this all for you)
Kelis
&
Björk
: Your sweat is salty, I am why
"Björk fans cruising Internet file-sharing networks this week stumbled upon a high-tech whodunit: Was that really a husky-voiced Kelis singing on a version of Björk's "Oceania," as the track was labeled? Or was it just another Internet mash-up, the handiwork of some bedroom DJ somewhere? "It's absolutely, positively Kelis and Björk on the track," Björk spokesperson Sherry Ring said Thursday (August 26). "The song didn't make it onto Björk's album because it was recorded so recently, but a lot of versions of that song were done."
[quote,
4um
&
BJORK.IT
]

And now, the thank yous. Thank you to
Björk.com
for the specials, to all the fans and members of the
4um
,
Medúlla Special
for the additional information and everyone else who have been a great source of energy, creativity and input. Thank you for supporting this special, and check regularly for updates and the next "Artist Of The Month" .

[Björk's Thank Yous -
Björk.com
]