A Glimpse of The Lake and Other Nonsense
The Lake Album
Who remembers this horrible, horrible joke played out on us vulnerable fans with Björk's impending album. This unfunny April Fools Day "news" item was presented on the
Björk/Grapewire
by the cunning MWC (aka Mad Web Carpenters) team -
"Brace yourself for a nice treat! We have the very pleasure to show you an exclusive first small peek at the cover artwork for the Lake album! It was created by a young and upcoming new visual artist called Plata. The idea was born in Iceland while recording some songs for the album in the studio. The inspirations is the beautiful northern lights, tying it again to the Icelandic roots, and the nature which surround the lake where the video for It's In Our Hands was filmed, but is also open for the impressions of the artist to flavour the creation. More information and visuals will come shortly! Very exciting!"
Ashamedly, I was actually
impressed
by this small, unassuming "cover" art. Maybe it represented something new, or computer generated that had that "Björk" written all over it. But alas, it was nothing. Our hopes were dashed. In relation to studio album number 5, other rumours included the revival and burial of the much anticipated "
Singles Box
", and recently, the "demo" of "
Triumph Of A Heart
". In this first leak of "
Medúlla
", the affectionally dubbed "
Do Do Do Do
" song captured our hearts and gave us a real taste of what Björk was up to behind the mixing desk. But in all fairness, whether this song was leaked intentionally or accidently, it certainly created a buzz. Even the popular, well-known music critic
Pitchfork
mentioned this as one of their exclusive news. Labelling it "experimental pop" and 3.5 stars, here is Dominique Leone's review:
"Aging doyen of the histrionic art-song returns with Medulla and this, a demo version of the album's closing track leaked to file-trading networks, saying not much more than "do do do do do." Of course, she uses not only her voice to drive home this "point," but samples of it played by various synthesizers and drum machines. The busy rhythm track provides most of the song's action: Reminiscent of Mouse on Mars and frequent Björk collaborators Matmos (who were one set of Medulla's programming teams), it's constructed primarily from beatbox fragments, and though spliced into strange clicks, pops and hums, a distinctly human element does peek through.
That the rhythmic foundation here doesn't seem as distinctive as its antecedents on Post or Homogenic did at the time may be a result of the song's unfinished nature, but Björk remains ever the master of her domain: Very few other singers could pull off the bizarre, intimate timbres she does, with only the barest melodic fragments. The many layers of her whisper at the end swarm like bees in the distance, and the ones that open the track are mutated into percussive instruments as crisp and precise as any on the rhythm track. Furthermore, as someone who never warmed to the over-brewed dramatics of Vespertine, this song's relatively sparse arrangement is refreshing. If her eccentricities are muted these days, they're still hers alone."
[Dominique Leone; July 19th, 2004]
Well, I promised "The Lake" album and "other nonsense", so without further ado -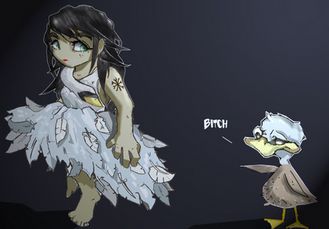 I cried myself silly when I saw this cartoon, depicting Björk and her infamous dead swan dress at the 2001 Oscars. The most ironic thing is, Björk uses a duck (could this be the "
Odd Duck
"?) for her feathers of her "swan" dress.
Björk really has a fascination, actually, more like a fetish with feathers. Perfoming "
Bachelorette
" at "Fashion Rocks" in an Alexander McQueen black dress, Björk represented a raven, dressed in thick feathers, flapping in the airvent below. Her hair was pinned up and ruffled up into a birds nest (literally), and she sung her heart out.
Also, at last years "Fuji Rock" Festival in Japan, Björk donned on pair of rings with electric blue feathers, hooked onto her ears. Taking jewelry and accessories to the extreme, Björk never wavers and shy away from any event.
Lastly, this was found at Björk's
4um
-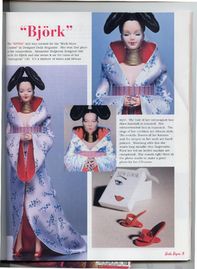 This amazing piece of work came from a competition where Barbie dolls are dressed up as rocks stars. Unfortunately, this creation only came second. The article was featured in "Designer Dolls Magazine" and the following is an abstract -
" Alexander McQueen designed this outfit for Björk and she wears it on the cover of her "Homogenic" CD
[picture below]
. It's a mixture of Asian and African style. The hair of her extravagent two discs hairstyle is rerooted. Her extraterrestrial face is repainted. The rings of her necklace are African style. The metallic flowers of her kimono and the stripes on her sash are hand painted. Matching with this she wears long metallic blue fingernails. Even her red no heeled sandals are exceptional."