Dazed & Confused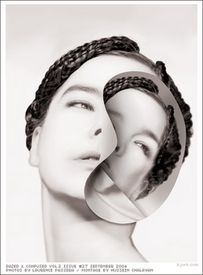 I am often Dazed and Confused. It's like waking up when your alarm calls...and then, after fumbling around to switch it off, you fall back asleep...only to be awaken in a daze...and confused of the time, the surroundings and quite possibly if you are still asleep or awake.
The picture above clearly resembles that. It is the September 2004 cover to the British music and culture magazine, "
Dazed & Confused
". In all "Björk-ness", her wonderful portrait has been twisted, peeling back a layer of epithelial cells to reveal another pristine Björk-likeness in image. The flawlessness of her skin, her perfectly braided hair, her subtle pose seem almost reduced to gothic proportions. No doubt a very simple feat accomplished by the numerous graphics programs available, it still sets an unsettling tone and eeriness. Perhaps of hint of things to come? Oh maybe a taste of her inner deep part of her animalistic being? Or am I just reading too much into a very eye-grabbing picture?
Anyway, here is a synopsis:
Dazed & Confused Vol2 Issue 17
This month, Dazed's cover is graced by Iceland's queen of electronics, Björk, who discusses her new a cappella album and collaborations, her respect for Rahzel and her fast approaching performance at the opening of the Olympics.
Interestingly Björk maybe the "Queen of Electronics", she hasn't used it in her latest album "
Medúlla
". Instead, she uses the wizardry in the behind-the-scenes take: utilising the talents of Matmos, Mark Bell and a whole host of producers to sculpture her sound. However, all you hear are vox samples, recorded, spliced up, re-arranged and crafted into something quite extraordinary.